Whitney In Shanghai...

Shanghai Surprised...
[Xinhuanet: Whitney Houston rocks Shanghai]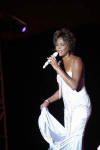 [Click On Images To View In Larger Scale]

BEIJING, July 23 (Xinhuanet) -- American pop singer Whitney Houston rocked Shanghai Thursday night as she staged her first China solo show.

In the one and a half hour concert, the six-time Grammy winner performed 20 songs, half of which were old favorites, like "I Will Always Love You", "Greatest Love of All", and the rest, new songs from her latest albums, reported CRIENGLISH.com.

Shanghai fans greeted the super star great enthusiasm. Whitney is heading for Beijing for her next show on Sunday.

Beijing...
Whitney Houston's concert performance in Beijing on Sunday night is an open air event. This Xinhuanet report (Whitney Houston to reach Beijing tomorrow) states contingency plans allow the event to be delayed due to rain by 30 minutes and potentially cancelled if bad weather should continue longer.

Whitney Sings For China...
Australia's Undercover Music News quotes Serena Williams and new Wimbledon champion Maria Sharapova on the news that Whitney Houston will perform for the China Open launch event. Read Whitney Houston Sings For China.
Shanghai For Whitney...
[From Blues & Soul]
WHITNEY HOUSTON SHANGHAI-ED

Go East young woman! Whitney Houston will make her debut in China on July 22 claiming it to be her favourite country. The world's most successful communist country has recently been the destination for several US performers with Shanghai having recently hosted a Mariah Carey concert. The Backstreet Boys and Britney Spears are also planning China shows in the near future. There are, after all, a billion Chinese folk awaiting a little western culture.
NEWSFILE: 23 JULY 2004