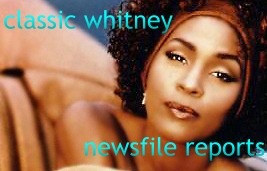 The Classic Whitney Newsfile Reports section contains news reports from over the years divided up into category specific sections making it much easier to find reports pertaining to a specific subject.
All categories have been listed in alphabetical order and by clicking on each of the links, your web browser will be directed to an index of reports on that subject, sorted in chronologically by date.

ALBUMS
Reports detailing recording and release information
APPEARANCES
Reports of engagements Whitney has committed to & follow up reports of events
ARISTA
Detailed reports covering fiscal information & the Clive Davis/LA Reid Transition
ARTICLES
An extension of the Reviews Section; Reports pertaining to Cultural and Musical Impact
AWARDS
Media reports following Award Nominations & Wins
BOBBY BROWN
Reports on the activities of Whitney Houston's husband (they divorced in 2007)
CAMPAIGNS
An Overview of some the campaigns Classic Whitney has been involved in &
Reports of the successes Whitney's fans have had against unfair reporting
CANCELLATIONS
Appearances Whitney has had to cancel
CLASSIC WHITNEY
Reports pertaining to the 1997 Washington DC Concerts
CONTRACT
August 2001 contract re-negotiation reports; The biggest recording contract in history
DEATH
Whitney Houston died on 11 February 2012
DIVORCE
Whitney Houston filed for legal separation in September 2006
regarding this as divorce action immediately after
DOMESTIC ABUSE ALLEGATION
December 2003, Whitney Houston calls police to report she was struck by Bobby Brown
Whitney is left with bruised left cheek and cut upper lip
DRUGS REHAB
Whitney Houston enters a drugs rehabilitation facility March 2004
FALSE DEATH REPORTS
It's Alright, She's Not Dead: September 2001
GUEST VOCAL
Projects of other artists Whitney lends her voice to
HAWAII 2000
Sifting through the speculation
HONOURS
Reports of honours and accolades bestowed upon Whitney
ISRAEL 2003
News reports detailing Whitney Houston's historic and controversial visit
ITALY 1997
Capri incident which left a cut on Whitney's face
JOHN HOUSTON
Reports on the $100m suit and John Houston's death
MISCELLANEOUS REPORTS
Variety of reports detailing Whitney's influence, cultural relevance, family & friends
MOVIE REPORTS
Further split down into subsections pertaining to specific movie project
OPRAH 2009
Described as "the most anticipated music interview of the decade"
PRIMETIME
Reports on the lead up to -- and following -- Whitney's 2002 Primetime Interview
THE PRINCE OF EGYPT
That duet, how it came about and the results
REALITY TV
Being Bobby Brown Reality TV Show
SALES & STATISTICS
Commercial sales & chart performance reports
SECURITY
Stalkers & events that make the life of Whitney's security 'interesting'
THE STAR SPANGLED BANNER
History of the song, that ground-breaking 1991 performance & the 2001 re-release
TOUR
Reports announcing tours or dates
'I LOOK TO YOU': LONDON WORLD PREMIERE OF ALBUM
PLUS NEW YORK & LOS ANGELES PLAYBACK REPORTS
Reports on the unveiling of Whitney Houston's comeback album

Reports that could be added to this section are welcomed - please email them to me.