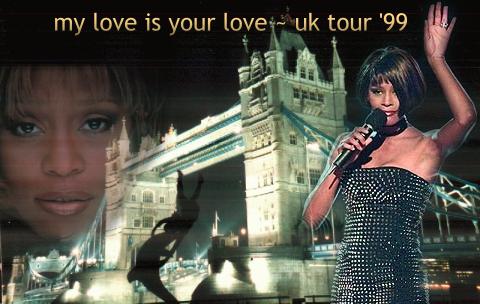 [THE RADIO 2 INTERVIEW] [THE MIRROR] [THE GUARDIAN] [CAPITAL RADIO]
[DAILY MAIL] [BLUES & SOUL]

WEMBLEY ARENA LONDON 15 SEPTEMBER 1999 - MANISH'S REVIEW
WEMBLEY ARENA LONDON 16 SEPTEMBER 1999 - MANISH'S REVIEW
WEMBLEY ARENA LONDON 18 SEPTEMBER 1999 - MANISH'S REVIEW
WEMBLEY ARENA LONDON 8 NOVEMBER 1999 - MANISH'S REVIEW
The Radio Two Interview, 4 September 1999:
Radio 2 in the UK tonight broadcast an hour long special on Whitney Houston. The show was presented by Boy George and featured interviews with Whitney, Cissy Houston and Clive Davis. Here's some of the most interesting comments:
INTRODUCTION
Whitney: "I've lasted - I've made it. I've hung with the best of them. I don't know, people say 'you've arrived', but it's the staying power that matters."
Whitney started singing at the age of seven. She told her mother she wanted to be a singer at the age of 13. Between 13 and 18 she did background sessions. She started modelling at the age of 16, until she was 19. She signed her contract at 19 and that's when she gave up modelling. She didn't want to do that anymore.
WHITNEY HOUSTON
It took two years to make "Whitney Houston". Stating it wasn't overnight, Whitney says she was "pretty much prepared" for the release of this album.
Clive: "Always that prime goal was to find great songs that could be standards. The question really of tempo; there was a certain number of slow songs and a certain number of uptempo material to show her versatility."
Boy George states in his commentary that "Whitney Houston" still holds the record for the biggest selling debut album by a solo artist in history.
CHURCH
"My mother, she raised us in Church. Because it's a family tradition that Church is a part of our life. You had to go to Church whether you liked it or not. But growing up, I loved it. I loved to sing, I loved the choir, I loved the whole excitement of going to Church and that feeling there."
Cissy says Whitney had a great childhood - that she was very obedient, although notes that Whitney was more outspoken then than she is now.
NIPPY
John Houston named Whitney, "Nippy" from an article in the funny papers - Nippy So Often Wrong.
SHE LEARNED FROM THE BEST
Whitney: "I was taught by the best of the best. I was around Dionne and Gladys and Patti and Lena Horne and Diane Carroll - I had the grace of being with these lovely, lovely women. So my mother geared me, ' this is the best of the best, I want you to listen to this music."; to Barbra Streisand, to Nat King Cole, Tony Bennett. This is the music that we had in our home - My mother had a whole array of music. Being that my mother was a singer, she was the one that passed it on to me. Without my mother, I don't know, who knows what I would be.
CLIVE DAVIS
Clive first heard about Whitney when she was working with Cissy in Clubs in Manhattan, New York.
Says Clive: "I was floored by her. I Wanted her badly, there was competition, but I knew I had strong advocated in my corner - Dionne Warwick was her first cousin; Aretha Franklin was an artist her mother had backed up all through the years, so there were a number of people advocating our relationship and of course, she did sign with us.
Whitney On Clive: "Clive is the man, he's the music man, he's the Hit Man as we like to call him. He's not afraid to say what it is that he has to say - and that means telling you the truth sometimes. He's not afraid to direct you, and to say that you gotta go back in [the studio] to do something or another. But he's a very comforting soul. He'll hold your hand like a father. He'll take you and he'll explain things to you."
SAVING ALL ALL MY LOVE FOR YOU
Originally recorded by Marilyn McCoo and Billy Davis Jnr, "Saving All My Love For You" was presented to Clive and Whitney by Michael Masser as a brand new song.
Says Whitney of her early success: "It was really strange because I was always on pins and needles like 'Okay, that's nice, that's No.1, Okay, I have this to do now'; It's kinda like it was happening and I really didn't know it until I sat down one day after all this touring and all this stuff I was doing -- I actually looked at my [musical] history and checked it out. It was alot of stuff, alot of stuff being done!"
THAT FIRST GRAMMY
"I didn't want to get dress for the party, I didn't want to wear that red dress my mother picked out for me - I didn't want to wear my hair the way it was. I was like that little girl who just didn't want to do anything that everybody wanted her to do. Underneath, I was reluctant in accepting all this stuff; I was like 'I don't want to go - no - that's too much, I don't want to be there.' I think, literally, I was afraid. So I sat in my room, in my house robe and I sat in my chair and wouldn't move. My mother came in the room and asked 'What's wrong with you?' - 'I can't do this, this is too much'. She said, 'Oh, you will do it. And you will handle it and you'll be fine - 'cause I'm going with you; and your dad and I are going to be right there.' I said 'Mom, I'm not prepared for this - I just can't do this'. I didn't think it was going to happen like this, this fast. My mother said 'Well it did, so what are we going to do now? Just sit in this chair? And this is what you're going to do in your robe?' I said 'Yeah'. She said 'No you're not, you're going to put your clothes on and we're going to go'. So she finally made me go. I get to the party and I hyperventilate." Whitney describes how she can't breathe and how Cissy has to take her into the bathroom with Whitney crying that she can't 'do this'. Cissy told her to just get ahold of herself, she did, and says Whitney "It was just fine".
Clive acknowledges that Whitney's success did come very quickly and that "I'm sure that on a human level it was very difficult for her to adjust to".
WHITNEY
Clive: "We said, you know, we're going to do more of the same. Just look for the best material. And since it worked that well the first time, we're going to do the same the second and we repeated the process."
Whitney: "We just knew what to do. We knew the formula, we had it, and we kept on it. And we just knew what to do".
The album "Whitney" has now sold three million copies in the UK alone according to Boy George.
Whitney: "I don't look for songs that are just going to come and go, I look for songs that are going to last. I look for ten hits - when I'm looking for my album I look for ten singles. Clive and I go with that same approach. We're looking for ten singles. So if my album, as opposed to another album - you might get two songs. You've got five on mine that you know you want to hear and that you can listen to over and over again and not get tired.
I WANNA DANCE WITH SOMEBODY (WHO LOVES ME)
Whitney: "I can't hear that again. I wanna feel the heat with somebody - it's like. oh my God - I actually sung those words! [laughs]. "Hot Record Though!!"
I KNOW HIM SO WELL
"I produced my mothers vocals for that song. I can remember sitting back and just listening to the woman that gave me what I have, and me, sitting behind the board and watching her and saying 'Ma, I want you to go back and do this line'. It was a thrilling moment for me. I can remember her saying 'I don't sound the same to myself', but she sounded so, so wonderful to me. I remember crying at the board. I do remember that. It was just a very special time. She and my father were going through things and they were about to divorce and it was just a moment that she and I shared."
Cissy: "Oh, that was great, it was. Her and I were standing there, she was singing, I was singing and we started to cry. It was just so ironic that we sounded so much alike. And she looked at me with that baby face, and I looked at her and I guess it was that magic".
MANDELA
Whitney says that she was very aware of what was going on and that Mandela had written Whitney a letter and had said so many wonderful things from prison; how he wanted Whitney to come to South Africa when apartheid was done. He promised her it would be done. "When he told me it was done, I went to South Africa and I was the first performer to come there. And this was done over many years. We can walk free through our land now."
ONE MOMENT IN TIME
Clive: "It really was done by Whitney for the Olympics - of course, you have the secondary consideration of would this be a standard, will the be a relevant song, so it was terrific because it did fit."
Whitney: "I knew 'One Moment In Time' would be a hit record, it is a song that, basically, just extends to everything you can think of. It was done for the Olympics. But children in high schools, in grammar schools were singing this song. Sammy Davis, before he passed away, he asked that I come to LA to his 60th anniversary and sing his favourite song, which was One Moment In Time. So here's Sammy Davis Jnr, Mr. Entertainment, I mean, the man that I have loved all my life, and have admired talking about this song that he wants me to sing. And I though 'Wow, I'm a lucky girl - I get to sing before Sammy'."
I'M YOUR BABY TONIGHT
Clive: "By this time, certainly in the United States, she had broken the all time record, so the knives were out. By this time, the question is "Is she real", "Can she dig deep", "Can she do more urban records" so clearly music was changing, it was moving more towards the cutting edge of the urban tip, and it was time to show that Whitney can really do any kind of material. And so yes there were songs that, like "I'm Your Baby Tonight" certainly became a worldwide number one dance record, but, there was more urban tinged material here, reflecting Whitney's maturity as still a very very young but proud, independent, black woman.
Whitney: "All The Man I Need, the words are 'I used to cry, I used to cry at night, but that was all before he came, he fills me up he gives me love, more love than I'll ever need, he's all I've got, he's all I've got in this world, he's all the man I'll ever need.' - For me, I can relate that to my God. There is a love, you know God for yourself, that no man or no human spirit can fulfil. It's a spiritual thing. It's coming from God."
THE BODYGUARD
Whitney: "I was scared to death making that transition from singer to actress. I mean, who's going to believe me? Singers have never really made that successful transfer, except for Barbra Streisand. And that was my goal, to be believed. When they watch me in a film, [they ask themselves] 'Do I believe her?'."
Clive: "Yea, I was worried that she would take parts that would not be in the best interests of her incredible singing career. You know someone's got to spread their wings and fly, but you know, I had my anxiety, not question about it."
I WILL ALWAYS LOVE YOU
Whitney first heard "I Will Always Love You" when they were deciding at the beginning of the movie what songs would be incorporated. Whitney: "I heard the song, it was a country kinda song, I thought ' cute song, it's alright'.
Whitney resisted this song initially and it was Kevin Costner who pushed Whitney to listen to the song again (as we all know) but Whitney only went for it only after the movie was complete and knew this was the song - "We were near the end of the movie so everything started to make sense, so I could listen to the song and say 'Oh, this does make sense' - you listen the lyric of that song, and you die. And you listen to the modulations and the peaks, and the valleys and they just end you - that's a song, Dolly wrote that song". Clive Davis said he heard the first cut of the song and fell in love with it "It gave me chills". When the movie was complete, David Foster re-produced the song. Clive called the new version "too glossy" and rejected it - something David Foster was very upset by. Arista went with the first cut and when David Foster heard the song on the radio for the first time, he called Clive and told him that Clive was right; that song/version was the most exciting record he'd ever made.
Cissy Houston says of all of Whitney's songs, "I Will Always Love You" is her favourite song by Whitney. "it's a unique, most precious song".
Cissy says she was amazed that Whitney can hold notes longer than anyone. She taught her to breathe and to sing, but it still gives her chills the way Whitney holds her notes for the length of time that she does.
Whitney: "What I look for in a song - truth, passion, ups and downs of love, relationships - between men and women, husband and wife, daughter/mother, mother to mother, things that women can relate to, as well as men - I think everybody can deal with love in some form or another.
Clive: It's easy with Whitney because she is just so supernaturally talented, you gotta pick the right material. There are an awful lot of great vocalists out there. The key is really to just find....yes, obviously if you're going to find a song or you're going to choose a song one of your criteria will be 'will it be a hit song'. I mean I hear it in my head, the arrangement, so I'll work with the arranger and the producer to make sure that the song's potential is realised.
WAITING TO EXHALE / SONG WRITING
"Some people are born to write, and some people are born to interpret what the writers write - I'm an interpreter. I am inspired to write when I feel it, when I have something to write about. Like 'Count On Me', I wrote with my brother, with my husband in mind. I was just in 'Face's house one day and we were at the end of 'Exhale', and I just remember he played this melody and I was just looking out of the window and I started sing 'Count On Me' and I thought about my friend CeCe Winans who is like my dearest and best friend and how we count on one another and I don't care what time it is, I can call her any time, morning/night/noon and she's there for me. So CeCe and I sometimes sit down and go 'How come we didn't write that?' - but we go, 'But we can sang it'.
THE PREACHER'S WIFE
Denzil Washington waited three years for Whitney on this project, originally "The Bishops Wife".
Whitney says she worked on 15 songs on the soundtrack and that meant working in three studios at the same time to get the album complete. "If anything could go wrong, it did go wrong with 'The Preacher' Wife' but we had faith, and it was about faith and I think God just put us to the test for this movie to see if we were really really strong, but we made it".
MY LOVE IS YOUR LOVE
"From all of the Whitney's you've heard before, from the past albums - that was then. This is now. The pop culture doesn't really exist anymore. It's standards it "Greatest Love Of All"'s , it's my "I Will Always Love You"'s, "All At Once" - that's my 80's. This is my 90's. There's a different rhythm out there and you have to be in it to win it." Says Whitney - she talks also about the producers of today, and this album, and says the music of today is more fun.
On the song "My Love Is Your Love" Whitney says "For me, that says alot about today, in the time in which we are living. There is of things going on that make you choose sides as to what you're going to do and what you're going to be. We're having alot of problems in this country with our youth - because nobody is saying My Love Is Your Love, nobody is treating each other with that love, with that consideration, with that respect. They're not going to the right places to find out, what it is, this thing called love. And how we deliver it and receive it from one another. Our children are killing one another for some strange and obscene reason - and I think it's because we don't teach our children to care for each other. We have to teach more about caring and being more considerate of one another. And learning different cultures and different ways of how people live so that we are not offended, or we're not afraid. You become afraid of the truth.
"I Learned From The Best", I think about my mother. Not all these songs, everybody thinks, are about my marriage or about things that are going on. Some of it's completely off the track totally.
MOTHERHOOD
She's not afraid of her growth [marriage & motherhood] - she feels a new connection between her music now - she talks about how she feels "You'll Never Stand Alone" as a song to her daughter.
THE MUSIC NOW
Rodney, Missy, Wyclef & Lauryn have all said they've produced their best work with Whitney Houston. Whitney: "If bringing the best out of people, if allowing them, or compelling them to reach new heights, to other standards, to put them a notch above what they expected...that's really cool."
Michael Baker has worked with Whitney for eight years and is now her new musical director. "Performing with her, she can do anything basically. Vocally, she can sing anything she wants to sing and the kind of knowledge that she has - that's why she supersedes other singers. Because of her gift. It's definitely an anointing from God or something. It's very very deep. She's just - like driving a Rolls Royce.
BOBBY BROWN
The media interest in her marriage has never let up. "Just image", says Whitney, "Waking up in the morning and seeing people sitting outside your house. For what?! I have no idea. It's like 'what do they want to know?' That we go through some of the same things that everybody else goes through? Yes. That we put our pants on the same way everybody else does? Yes, we do. It's strange because you can't have a moments peace to a certain degree like everybody else can. If Bobby and I go out to dinner, we get this [imitates whispers all around her]. For us it's a hassle at times. Because we're nothing like they say. You know, we're nothing like they say. In fact, we have a pretty damn good time, I don't know what they're doing. But we have a good time."
BOBBI KRISTINA
If Krissy can sing, which she can, which is quite scary, I will encourage her. If someone is blessed with a talent or gift, you can't hold them back. You don't say 'no you can't do that because this is a rotten business or this is flaky world we live in'. I'm just going to be there to guide her. I'll try to protect her as best I can as my mother did me. And that's basically all I can do and try to teach Krissy the best, of the best.
ANYTHING FOR YOU
She calls this movie "A very very good film". She says African American people can also make a romantic comedy - that's the driver behind this movie.
CLOSING
Clive Davis: "I think her legacy is that she has performed inimitably and uniquely some of the great songs of the 20th Century. She will do things that nobody before her has done. There are three all time great singers. There is Aretha Franklin, there's Barbra Streisand and there's Whitney Houston."
Whitney Houston: "When I die, it's not going to matter what car I drove, what house I lived in or how much money I made, but the only thing that matters to me is how important I was in the life of a child. I feel blessed, to be really honest with you. I'm not going to say it was easy, because it wasn't. But I feel blessed."
---
The Mirror, 6 September 1999
UK tabloid newspaper, The Mirror today published a review of Whitney's Hamburg show. along with this fabulous photo of her in concert, in the build up to her first UK show in a year The Voice Thrills Us All To Whits....
They call her The Voice. She has a reputation for being "difficult". But Whitney Houston showed the mellow side of her nature in Germany on Saturday.

The mega-selling diva comes across as so polished on record, so "in charge" that I expected her to be the same on stage. But live it's another story.

That's not to say her routine was sloppy. When she strode on stage at the Derbypark Arena outside Hamburg, it was with all the confidence I'd anticipated.

Clad from wig to toe in Dolce & Gabbana - a shocking pink coat over black bustier and zebra-print trousers - she appeared first on a metal bridge that led down to a stage decorated with three giant metal spider's webs.

Clad from wig to toe in Dolce & Gabbana - a shocking pink coat over black bustier and zebra-print trousers - she appeared first on a metal bridge that led down to a stage decorated with three giant metal spider's webs.

Midway through the gig with the band firing on all cylinders, Whitney had achieved the impossible and all 15,000 of the well-heeled Hamburgers were up and smiling.

Fuelled by the local Ratzenpiess lager I suddenly found myself among them, dancing and weaving my way through towards the front of the stage.

Whitney rounded off the evening with a movie medley climaxing with a show-stopping I Will Always Love You from The Bodyguard. It was a warm evening but everyone had goosebumps. Her encore turned out to be the best bit, a stomping version of It's Not Right. .
[Report By Matthew Wright]
---
Diva Takes A Nosedive - The Guardian, 11 September 1999
[Show awarded two stars - mediocre]
As falls from grace go, this is not quite Elvis in Las Vegas or Pink Floyd's befuddled Syd Barratt performing with melting mandrax tablets pouring down his head. That would be too exciting. For all her industrial vocal cords, Whitney Houston has made a career out of being accomplished rather than genuinely great, so it is appropriate that her public implosion is neither mind-bogglinlgy weird nor spectacularly disastrous, just odd, and bad.
At first, it seems as though there won't be a show at all. Two and a half hours after the doors open, there is still no sign of Whitney. Eventually a bod tells us they are experiencing a "technical problem". It soon becomes obvious that the technical problem is the singer herself. Finally, more than 30 minutes later, she appears in an outfit someone presumably left at Woodstock because it was too awful. "This [taps voicebox] is an instrument, and sometimes it doesn't do what I want it to do," she explains, before spending the next hour and a half demonstrating exactly that. Neither is it just her delivery suffering from gremlins. Mostly immobile and plainly struggling down a staircase, it is open to speculation whether Whitney has a mystery back problem, was jet-lagged, or is, in fact, the England centre forward.
Only last year, Houston denied drug rumours that have been compounded by the errant behaviour of husband Bobby Brown (seen grinning sidestage like a death's head), who was once actually arrested for attempting to drive while being unable to recite the alphabet. She said if she was an addict it would be seen in her performance. Well since it wasn't drugs, something else must have been affecting her performance.
Her voice is curious, because when she belts it out she displays almost stunning vocal prowess, but in more intimate, breathier moments, she is absolutely gasping.
Weirder still are continual mumbles ("We famous have lives too"), the mopping of her brow approximately 12,000 times, the incomprehensible gospel excursion, and the bit where the band and backing vocalists (who often carry the show) run through hits such as "I'm Your Baby Tonight" to old videos of Whitney while the singer disappears offstage.
After a wobbly medley including "I Wanna Dance With Somebody", WH gasps: "Phew! You like the oldies. I was 19,20...no more. This is hard work". At 36?!
She almost pulls it around by "I Will Always Love You" but somebody should form a Whitney tribute quick. It would surely be better than the current real thing.
DAVE SIMPSON
---
THE CAPITAL RADIO REVIEW
The superstar diva touched down at Wembley Arena and we were there to soak up the spectacle.
The crowd roars in anticipation the instant a squillion lightbulbs burst into life and the band kick in with the first chords of the first tune. As expected, they roar even louder when Ms Houston appears, striding to centre stage, so tall you find yourself checking for stilts.

She looks beautiful; statuesque in a floor-swiping housecoat, with sparkling silver trim, black combats and low cut black vest top. In fact the top is so low cut it's a bit distracting, whatever your persuasion. She's either been working out or she's had a bit of help, but her figure is just not the same as in her 'I Wanna Dance With Somebody Days' and it's not just a few extra years that have made the difference.

Her four female dancers spring into action, swinging, sliding and leaping in choreographed perfection around her like slinky imps. She bobs and slides with them as she performs the first three songs, all from her latest, 'My Love Is Your Love' album. The tempo is up and pumping and her voice is an impeccable velvet that glides across the octaves with unnerving ease.

Then it's time to slow things down a little and she strolls to the back of the stage to powder her nose - literally! With a mirror and a sponge she reapplies the make-up that in the heat and stage lighting have slid from her face. Hanky in hand, she returns to quickly plug her album and then treat the crowd to over half an hour of ballads that soar and swoon - then punch you in the gut. The purity of her vocal is astounding and the pain she sings of, believable. But the audience is getting restless. She's been on stage over 40 minutes now and we've yet to hear one of her big hits. The crowd are desperate to sing along to something, and you become aware of people shifting in their seats.

Finally, one we're all familiar with : 'Step By Step'. She asks the audience to stand and we're happy to obey. Singing and swaying ensues, people look at each other and smile. But it's short lived. The song ends, the dancers continue and then one of her backing singers takes over as Whitney waves goodbye and disappears back stage.

He does a fine job of filling in for the 15 minutes until she returns - but it's not good for the atmosphere. The crowd wants Whitney and they want Whitney to sing her hits.
When she does return to the stage the crowd get what they want. Dressed in a shimmering satin, beige ball gown and a buttercup yellow stole, Ms Houston launches into the title track of the new album, 'My Love Is Your Love' - and for this performance she adds a reggae twist. The crowd leaps to their feet once more and the party starts over.

She follows it up with 'I'm Every Woman' and the hand clapping starts and smiling upturned faces mouth the words. A medley of her 80's hits are next and she teases the audience with snippets of crowd-pleasers like 'I Wanna Dance With Somebody' and 'How Will I Know.'

At last it's all going swimmingly, we're swaying, we're swinging, this is what we came here for. But it's short lived. Frenzy over, she turns down the heat and takes a moment to commune with the crowd. We learn of her Gospel background, how important it is for her to have God in her life and how far she has taken Jesus into her heart. The next half hour is Gospel half hour; great fun, up to a point. It's obvious Whitney is thoroughly enjoying belting out these tunes, which is nice, but a lot of the crowd don't share her religious views and can do without the bible-bashing. It might work in America but the British crowd aren't quite as sold on the idea.

By the time she sits down for 'I Will Always Love You' her breathtaking dress is a shadow of it's former self, a casualty of the heat and her propensity to glow profusely. It's a beautiful song and a tear-jerker by all accounts, but there's not a single lighter being held aloft as you'd expect, an indication that the crowd are a tad subdued.

She leaves the stage and the crowd applaud, applauding once again when she returns for the finale. In a zebra combo trouser suit and red fur, the song we've all been waiting for fills the arena : 'It's Not Right But It's Ok'. There's cheering now - and lots of it - but you get the feeling that's it's all just too little, too late.
---
THE DAILY MAIL REVIEW, 17 SEPTEMBER 1999
Whitney Houston was the big ballad queen when she toured Britain six years ago. But the American diva made some significant changes to her sophisticated style with last year's excellent My Love Is Your Love album, lending her stunning soul voice to harder, more contemporary R&B beats.
The show stressed both sides to her character. Backed by a tight, six piece band, Houston played newer material , including a funky If I Told You That, early in her set. But the evening was dominated by a gospel medley and a clutch of big Hollywood themes, the best of which was I Will Always Love You.
Despite her cabaret-style patter, Houston also delighted fans with a disco workout of I'm Every Woman and a slick Saving All My Love For You. The song and dance section was let down only by a disappointing I Wanna Dance With Somebody (Who Loves Me).
With numerous costume changes, the mood was more Las Vegas cabaret than New York R&B. But Wembley's enthusiastic reaction to the title track from My Love Is Your Love and a hard-hitting It's Not Right But It's Okay was a vote of confidence in the new Whitney.

BLUES & SOUL REVIEW
Being a major major fan of Ms Houston, I attended both the Sheffield and Wembley gigs. Briefly, the Sheffield affair was a disappointment. Delayed stage appearance, voice problems, coughing fits etc. Not a night for the record books. So it was a great relief to see that Whitney was back on top form at Wembley. She came on stage on time, and indeed performed an extra 20 minutes, giving one of the best performances I have ever seen and heard from her. Looking stunning in her specially commissioned Dolce & Gabana outfits her vocal chords were top notch on this particular evening.
The night's proceedings were predictably dominated by renditions from her latest album, including the rousing 'My Love Is Your Love', 'Get It Back', and 'Heartbreak Hotel' but it was nice to see the inclusion of the old foot-stompers 'How Will I Know' and 'I Wanna Dance With Somebody'. Together with an accompanying quartet of young female dancers Whitney jigged around the stage the best she could in her tight outfits with the arena crowd joining in to create an intense atmosphere.
I have always been a bit soft when it comes to ballads and Whitney, especially, it is no exception 'Saving All My Love For You' and 'I Will Always Love You' were the predictable offerings, with the latter a totally different, though so much better, rendition than the previous week in Sheffield. But it wasn't until 'I Believe In You And Me' from The Preacher's Wife soundtrack that she finally made the hairs on the back of my neck stand on end. I was in ecstasy but this was ultimately surpassed by an absolutely stunning rendition of the stand-out ballad from her latest album 'Until You Come Back'. Whitney's vocals on a track like this in a live environment are truly something to behold. The Lord has certainly blessed this woman and blessed all in giving us the opportunity to hear her.
Gospel numbers from The Preacher's Wife gave another direction for Whitney to go to before she once again raised the roof with what I feel is a much under-rated dance number from the same soundtrack, the Annie Lennox-penned 'Step By Step'. Following this with 'I'm Every Woman' when the crowd almost sang along in unison and it was a superb feeling to see a genuinely great singer back on form singing at the top of her range with 12,000 souls on their feet demonstrating their appreciation. Special mention must also go to her new band featuring Michael Baker on drums who was also the Musical Director. With backing vocalists including her brother Gary Houston, Cindy Mizelle and Valerie Pinkston (who I last saw as part of Chapter 8 at Hammersmith in 1989) they all produced superb accompaniment to a wondrous voice. [Mark Sykes]