Whitney Houston: Sun Revises It's Review...
Sun: Caught Live: Whitney Houston
By CARL STROUD in Birmingham, Published: 14 Apr 2010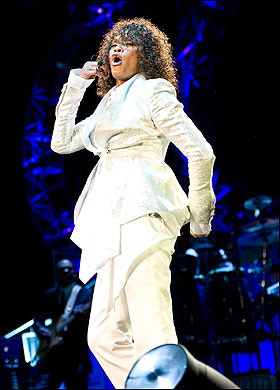 FALLEN soul titan WHITNEY HOUSTON'S first world tour in over a decade got off to the worst of possible starts.

Many fans who saw her on the initial leg in Australia in February demanded their money back after complaining her performance was terrible. Speculation was rife that she was still suffering the fallout from more than a decade of crack cocaine abuse - which she claims to have beaten.

And the omens weren't great for her first UK run in 11 years after the diva cancelled the first three shows of the jaunt last week, citing a throat infection. The 46-year-old, one of the biggest-selling artists of all time, did manage to make it to the stage in Birmingham. However the spectacle wasn't the magnificent comeback many had hoped for.

Time and substances haven't been kind to her once astonishing voice. The songbird herself seemed distracted - often losing her train of thought during rambling between-song chats with the audience.

After opening with two tracks from new album I Look To You - both marred by microphone problems - she joked about her last TV appearance on these shores, during which she suffered an embarrassing wardrobe malfunction.

Whitney told fans: "Tonight I want you to enjoy yourselves. Have a good look. If you want to sing with me please be in the right key. I've seen X Factor."

The concise 16-song set delved into all corners of her back catalogue. Classics I Will Always Love You, Saving All My Love For You and I Wanna Dance With Somebody were all aired, but sadly didn't come up to scratch.

NEWSFILE: 14 APRIL 2010