Off Key Night...
People: Whitney Houston's Off-Key Night Disappoints London Fans
By Liz Corcoran, Monday April 26, 2010 01:45 PM EDT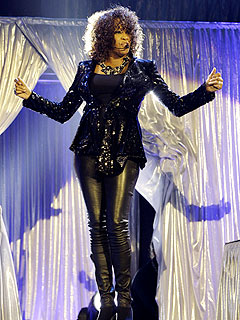 Whitney Houston may have performed her megahit "I Will Always Love You" at her sold-out London concert on Sunday – but apparently scores of her fans didn't share the sentiment.

Despite paying up to $170 a ticket, disappointed concertgoers streamed out of the singer's show at the O2 Arena after Houston failed to hit the high notes and she rasped her way through several attempts at the song. To her credit, the singer, 46, knew she was disappointing the crowd, and she shook her head and tried to reassure the audience.

"Oh, it's going to come," Houston announced mid-song. "I wanna do it – but [my voice] just doesn't want to. I have long talks with her. Well, tonight she's getting a little temperamental."
Houston, whose European tour has been plagued by her respiratory illness, also blamed her vocal troubles on the venue's air-conditioning, which she told fans "turned my soprano off." (Houston also cited the a/c as the cause of similar problems at her Birmingham, England, show weeks before.)

For real fans, though, the singer's apparent performance troubles were no problem at all. Many were just thrilled to see her in the U.K. again, since her last official tour date in the British capital in 1999.

"She was incredibly brave to come out and perform," concert attendee Maria Montague told PEOPLE at the show. "Even though she struggled at times, I think she did well considering what's she's been through."

According to longtime fan Kevin Hughes: "The voice has definitely deteriorated, but the showmanship and the sheer entertainment value is still there. She's still a star."

The British press, however, didn't quite agree.
A Daily Mail critic said the performance "went from bad to worse," and said Houston's voice "was a former shadow of what it used to be." And a report in The Sun said Houston's performance and vocal troubles "highlighted the superstar's dramatic decline."

A rep for Houston could not be reached for comment.

Still, the singer's ardent admirers praised her for taking the stage – and admitting her own weaknesses. "I think it was a very honest performance," fan Howard Griffiths told PEOPLE. "She didn't try to hide anything ... it was honest."


NEWSFILE: 26 APRIL 2010