Problem Hitting The High Notes...
Guardian: Whitney Houston still has a problem hitting the high notes
Troubled diva apologises to London audience for the poor quality of her voice. Then blames the air-con ...
Sean Michaels guardian.co.uk, Tuesday 27 April 2010 11.03 BST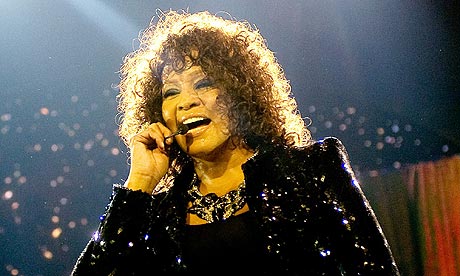 Whitney Houston's world tour lurches on, with the 46-year-old singer apologising to a London crowd for the poor quality of her voice. "She doesn't want to come, my soprano friend," Houston explained to the audience at O2 Arena. She wasn't referring to Renée Fleming.

This is ostensibly the singer's comeback tour, but she has been booed in Australia, laughed at in Birmingham, and several fans allegedly walked out of her London show. "Sometimes the old girl sings, but not tonight," Houston told the crowd. "I want to do it, but she doesn't want to ... She's getting a little temperamental."

Houston struggled through I Will Always Love You, her best-known song, and didn't bother finishing Greatest Love of All. She had a similarly rough time in Nottingham last Wednesday, "wheezing and grating" through ballads. In London, she blamed the air-conditioning. "Turn the air-con off," she asked organisers, from the stage. "I can feel it. It takes away my soprano."

Critics have not been kind to Houston, and she upset fans after cancelling several concerts due to a respiratory infection. Her Australian promoter explained that the Bodyguard star refuses to quit smoking. "God bless her, I can't tell her not to," Andrew McManus said. "She's comfortable with the show she's performing. She knows she's not hitting every note like she used to." McManus recalled Houston's comments after a show in Sydney. "She said, 'If the good Lord wants me to be attacked and ridiculed that's the road I have to go down.'"


NEWSFILE: 26 APRIL 2010