Whitney at the O2 London...
Financial Times: Whitney Houston, The O2, London
By Ludovic Hunter-Tilney
Published: April 26 2010 22:17 | Last updated: April 26 2010 22:17
Rating 1/5 Stars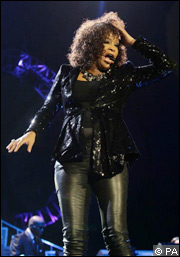 Whitney Houston's comeback got off to a strong start with last year's chart-topping album I Look to You. Yet the damage from years of drug addiction has been alarmingly exposed by her return to the stage. Her first London show since 1999 was preceded by reports from earlier dates on her Nothing But Love world tour of fans booing and demanding their money back. The opening of the UK leg was delayed when the singer, 46, was hospitalised in Paris this month. A respiratory infection was the official reason: Houston denied "ridiculous" rumours of a drug relapse.

There was a steady stream of walkouts during her lamentable appearance at the O2 Arena. Not everyone was so censorious. Her painful attempts to hit the high notes in a disastrous "I Will Always Love You" met with forgiving applause, though Houston's strained laughter expressed a less sentimental truth: the singer once known as "The Voice" is a wheezy, hoarse, rasping caricature of her former self.

The show opened with an upbeat pair of R&B tracks from I Look to You. The message was defiant, Houston casting herself as a soul diva survivor. But what works on record didn't translate to the stage, where, bereft of studio trickery, the degrading effects of her crack cocaine addiction were laid bare.

When she tried to sound forceful, the results were strident. Quieter passages of singing lacked any grace. She seemed to will herself on to reach old heights, but the effort exhausted her. Within moments of starting she was panting violently and after a mere 45 minutes she exited for a break. By the end of the show she was barely singing, her backing singers carrying the songs. Apparently the air conditioning was to blame. "That's why she don't want to come, my soprano friend," Houston said of her destroyed voice.

Technical deficiencies were compounded by a bizarre set-list. Much of the show consisted of her band burbling in the background as the singer delivered semi-sung, seemingly ad-libbed monologues, including a long tribute to Michael Jackson, with whom Houston appears to have a worrying identification. "Now I'm here I'll take his place," she warbled. Centrepiece in a ghoulish freak show? That's not a good place to be. Houston shouldn't be on stage.

NEWSFILE: 26 APRIL 2010