Whitney Returns to Blighty...
Daily Star: GIG REVIEW: WHITNEY HOUSTON, LG ARENA, BIRMINGHAM
14th April 2010 By Kim Dawson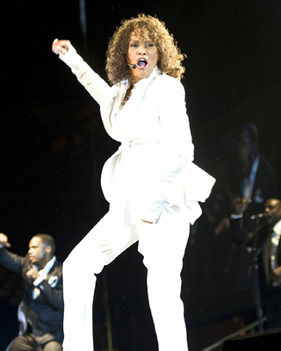 IT'S taken 11 years and a bunch of re-scheduling but finally Whitney Houston returned to the stage in Blighty. For the Whitney Houston Lovers, a relatively new song from latest album I Look To You, was a brave opener. But the rocky number did the business, even if Whitney's ill-advised tinfoil suit didn't. After some mic issues, she began to chat.

"It has been a long time since I've been to Birmingham but what a pleasure it is to be here," Whit grinned. "I thank you for your love and loyalty. "Tonight I want you to enjoy yourselves, have a good look, do your thing. "If you want to sing along to me, sing in the right key - I've seen X Factor. I know Simon too," she giggled rudely.

Pausing to sign an autograph for a front row fan, those famous pipes got a proper exercising on I Look To You - a belly-bursting power number. However, It's Not Right is the tune that really got the gig started with gusto. "That's an oldie but a goodie," whooped Whit.

Unlike the three song costume changes that saw her brother Gary, her albeit brilliant backing singers and a video fill in time. Boos and jeers of: "Where are you" filled the arena.

When Whitney returned in a much wiser choice of black sparkly frock she said: "I heard you got a little p***ed off while I changed my clothes and dried off. But I'm here now."

After gyp from the moody punters, Whit even mixed up her next numbers and told her band: "It's my show; I can do what I want." Too right lady.

A banging Step By Step ruddy proved it too as wiggling in her slinky frock, Whitney did the business. But the gospel medley next after a request to turn off the air conditioning to protect her voice would've been better suited down her church.

I Wanna Dance With Somebody picked up the pace again, even if Whitney was out of time and struggling for breath due to that pesky AC. Ending with Million Dollar Bill, Whitney proved she's back - and a lot more fun now she's a tad wonky donkey.

NEWSFILE: 14 APRIL 2010