Diva Quality...
AdelaideNow: Whitney shows fans at Adelaide Entertainment Centre concert she still has diva quality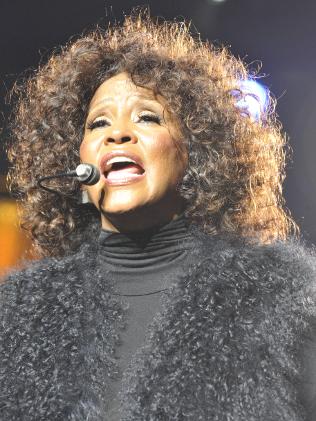 ADELAIDE fans came to judge pop icon Whitney Houston for themselves last night, and she showed them she's still got "it" - just not consistently.
Fans took their seats at the Entertainment Centre last night unsure if they would see a triumph or trainwreck.

In the end they got a bit of both - all for a tidy $200.

Houston's first Australian tour in 22 years has brought with it not only the ageing pop star but a barrage of controversy as she was slammed after her opening show in Brisbane for being "breathless".

No doubt curiosity about her health and well-being enticed many Adelaide supporters to hold on to their tickets and the majority were glad they did as they danced their way through her star-studded set.

The moment the film, music and fashion star stepped on stage in shiny silver spandex leggings the crowd jumped to its feet and screamed for one idol.

Opening with For The Lovers, off her latest album, I Look To You, Houston shimmied and gyrated alongside her all-male dance troupe, and let the adoration from the audience wash over her as she closed the number with some deep, composing breaths.

Yet everyone was still to pass judgment on whether she could still sing... and she could.

At times Houston let her vocals loose and with a collective gasp of excitement the crowd remembered how and why she became such a superstar in her heyday. Yet, there were times when all - including Houston herself - were reminded she's now 46, has overcome serious drug addiction and an abusive relationship to make it this far in her career and she's tired. Exhausted. Raspy.

There's one thing for sure. Houston is an entertainer at heart.

She knows how to engage a crowd and keep the fans eating from the palm of her hand. She'll tease with a knowing and tuneful hum, or tell a story about what brought her to today. Last night it was the moment when she called her daughter, Bobbi Kristina, up on stage for everyone to sing happy birthday to while they shared hugs and tears that endeared Houston to all. After all, she's a mother of a 17-year-old in her spare time too.

Though it was her rally through the hits - including I Learn From You and I Wanna Dance With Somebody - that kept the crowd pumping, all the while anticipating that magical moment... the opening bars of I Will Always Love You.

The first half was undoubtedly a mess. Poorly executed and a slightly more casual interpretation of the song left fans wanting more, chanting "we love you Whitney" as she paused before the second chorus.

Then she nailed it. Like the day she first recorded it, Houston held the power note that made her an icon. Albeit with an eye-roll to conclude and the admission "that's really hard you know".

But, despite her slightly eclectic style on stage (she announced she would be drinking plenty of water - "don't get it mixed up" - and applied make-up at one point) Houston was still loveable and commendable after all these years.


NEWSFILE: 4 MARCH 2010