Shanghai Surprised...
[Xinhuanet: Whitney Houston rocks Shanghai]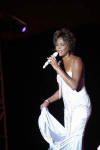 [Click On Images To View In Larger Scale]

BEIJING, July 23 (Xinhuanet) -- American pop singer Whitney Houston rocked Shanghai Thursday night as she staged her first China solo show.

In the one and a half hour concert, the six-time Grammy winner performed 20 songs, half of which were old favorites, like "I Will Always Love You", "Greatest Love of All", and the rest, new songs from her latest albums, reported CRIENGLISH.com.

Shanghai fans greeted the super star great enthusiasm.

Whitney is heading for Beijing for her next show on Sunday.


NEWSFILE: 23 JULY 2004