Opening Up...
San Francisco Chronicle: Houston opens up to Oprah about drugs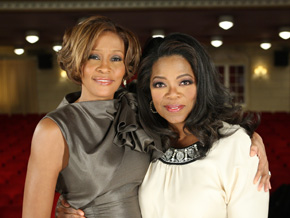 Whitney Houston was so hooked on hard drugs, she dreaded the thought of leaving her home.

In a candid new interview with Oprah Winfrey, which airs next week, the singer reveals her struggles with crack cocaine during her marriage to Bobby Brown, and tells how she could not bring herself to get dressed for seven months.

The 46-year-old admits to the talk show host that her life began to spiral out of control after the phenomenal success of the 1992 movie "The Bodyguard."

And Houston also reveals she allowed Brown to step into the spotlight during their 14-year marriage, even though it meant putting her own ambitions on hold.

Winfrey says, "It (the interview) will leave you gasping. She does not blame Bobby Brown and she takes full responsibility for her engagement in drugs.

"At one point she says, 'I didn't get out of my pajamas for seven months.' She talks about doing the drugs and sitting in the house, the two of them going, 'What are we doing?'

"She said, 'I want to tell my story, I want to tell the truth.' She talks about when it started to go wrong after 'The Bodyguard' -- that was a long time ago.

"The thing most shocking to me is that Whitney tried to make herself smaller to fit in a marriage so the man could be bigger. How many women have done that? I deeply felt for her. She was trying to be the good wife. She really, truly loved him."

NEWSFILE: 11 SEPTEMBER 2009