The Most Anticipated Music Interview of the Decade...
New York Daily News: Oprah Winfrey will interview Whitney Houston to open new season of hit daytime talk show
BY RICHARD HUFF
DAILY NEWS TV EDITOR
Wednesday, August 19th 2009, 4:38 PM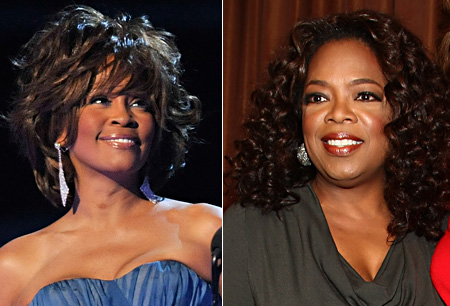 Whitney Houston speaks! And she will probably sing, too, when the trouble-plagued songstress goes head-to-head with daytime queen Oprah Winfrey in September.
Winfrey will launch the 24th season of her hit daytime talk show Sept. 14 (seen locally on WABC/Ch. 7, at 4 p.m.) with an exclusive interview of Houston. Winfrey called the visit "the most anticipated music interview of the decade." She's not lying.
Houston, once one of the biggest stars in music who also made a foray into acting, has been plagued by tabloid tales and a troubled marriage to Bobby Brown. Indeed, she's made more ugly headlines than anything else in recent years. The Winfrey appearance — and confessional, some watchers no doubt hope — is her first interview in nearly seven years. Her last, the memorable sitdown with Diane Sawyer on ABC in 2002, had Houston dealing with allegations of drug use and more.
"First of all, let's get one thing straight," Houston responded to Sawyer's questions about drug addiction. "Crack is cheap. I make too much money to ever smoke crack. Let's get that straight. Okay? We don't do crack. We don't do that. Crack is wack."
Houston, one of the biggest selling music artists in the world, divorced Brown in 2007 and has been attempting to rebuild her singing career since.
Houston's new CD, "I Look To You," hits stores Aug. 31 and is already being billed as her big comeback.


NEWSFILE: 19 AUGUST 2009