Oprah Interview...
BBC News: Whitney Set for Oprah Interview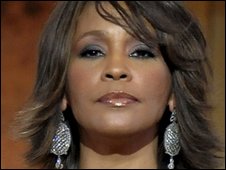 Singer Whitney Houston is to appear on the Oprah Winfrey Show, giving her first full-length interview in almost seven years. The 46-year-old will be the first guest of the US chat show's new series on 14 September to promote her new album, I Look to You.

On her website, Winfrey called the star's appearance "the most anticipated music interview of the decade".

Houston's last TV interview was in 2002 with ABC's Diane Sawyer. During that interview, the star famously addressed questions about her drug use by saying: "Let's get one thing straight. Crack is cheap. "I make too much money to ever smoke crack. Let's get that straight okay? We don't do crack. We don't do that. Crack is wack."

The singer, who enjoyed huge success in the 1980s and 1990s with hits including I Wanna Dance With Somebody and I Will Always Love You, has not released a studio album since 2003. She is one of the best-selling artists of all time but her career stalled as she battled drugs and endured a troubled marriage to singer Bobby Brown.

I Look to You is being released on 31 August in the US and in October in the UK.
[Thanks Dan]


NEWSFILE: 20 AUGUST 2009