Oprah's Best Interview Ever...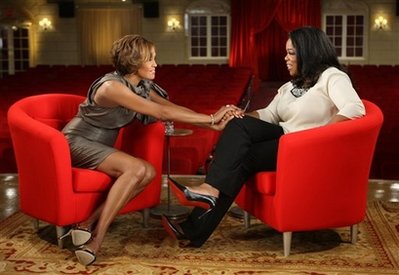 Associated Press: Oprah: Houston interview is best she's ever done
CHICAGO (AP) -- Talk show host Oprah Winfrey calls her upcoming sit-down with singer Whitney Houston "the best interview I've ever done."
Winfrey said Monday in comments provided to The Associated Press by Harpo Productions that she "can't think of a moment, ever, when I had a stronger connection to the person I was interviewing."
According to Harpo Productions, Houston's daughter and producer Clive Davis attended the interview.
Houston also is to perform her new song "I Didn't Know My Own Strength."
The 46-year-old superstar hasn't done a major TV interview since 2002, when she addressed questions about her drug use from ABC's Diane Sawyer.
Winfrey kicks off the 24th season of Chicago-based "The Oprah Winfrey Show" with the two-part interview with Houston on Sept. 14 and 15.


NEWSFILE: 7 SEPTEMBER 2009