Jet...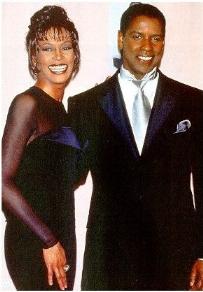 Whitney makes the cover of Jet December 13 1999 issue for the Most Memorable Movie Couples of the Decade, Whitney and Denzel for (The Preachers Wife) Angela Bassett and Tye Diggs (How Stella Got Her Grove Back) Laurence Fishburne and Vanessa Williams (Hoodlum) Eddie Murphy and Halle Berry (Boomerang) Jada Pinkett and Allen Payne (Jason Lyric) Will Smith and Vivica Fox (Independance Day) Oprah Winfrey and Danny Glover(Beloved).
This is what is said about Whitney and Denzel...

Whitney Houston and Denzel Washington were an acting team made in movie heaven when they teamed up three years ago for the heartwarming comedy The Preacher's Wife. As Julia Biggs, the gospel singing wife of a preacher who doubts his ability to make a difference in his troubled community and home, Houston's character is given solace by the angel Dudley, played by Washington. The warm friendship that the two share is endearing, it touched the souls of moviegoers all over.

NEWSFILE: 10 DECEMBER 1999