Houston, Whitney Houston...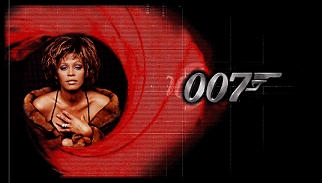 AND SPY WILL ALWAYS LOVE YOU
By VICTORIA NEWTON
Showbiz Editor (The Sun)
POP diva Whitney Houston is being lined up to star as a Bond girl alongside Pierce Brosnan in the next 007 film. Whitney, 37, has already agreed to the project in principle, and is now waiting to enter final negotiations with movie bosses.
Multi-millionaire beauty Whitney - whose No1 hits include I Will Always Love You - is due to meet the widow of famous Bond producer Albert "Cubby" Broccoli this week. Dana Broccoli is chairman of her late husband's company, Danjak, and has the last word on everything to do with the James Bond movie franchise. It was her who decided heart-throb Sean Connery was sexy enough to play Bond. Dana was also instrumental in signing up actor Timothy Dalton to appear as the British secret agent. Now she is said to be "extremely keen" to get Whitney involved in the new Bond movie, being filmed later this year.
A source said: "The movie bosses think Whitney would make a fantastic Bond girl and are desperately working out a deal which will be acceptable. She has all the glamour, talent and star power to make a huge impact. Whitney would also be a perfect choice to sing the big song from the soundtrack because of her amazing voice. Preliminary talks have taken place and both sides expect a deal to be struck soon."
If talks are successful, Whitney will join a long line of famous Bond girls including Ursula Andress, Honor Blackman, Joanna Lumley, Denise Richards, Sophie Marceau, Barbara Bach and Grace Jones.
The Bond movie will not be the first time Whitney has appeared on the big screen. She made her major film breakthrough in The Bodyguard, starring alongside Hollywood heart-throb Kevin Costner and singing on the hugely successful soundtrack - which included the smash I Will Always Love You. The film was a massive box office hit, and there is now talk of a Bodyguard 2 movie.
Whitney, who is married to singer Bobby Brown, is currently in Los Angeles filming a pop video with The Backstreet Boys.
NEWSFILE: 21 MARCH 2001