The Sun: Dermot scared out of his Whits
By NADIA SAM-DALIRI , Published: 16 Apr 2010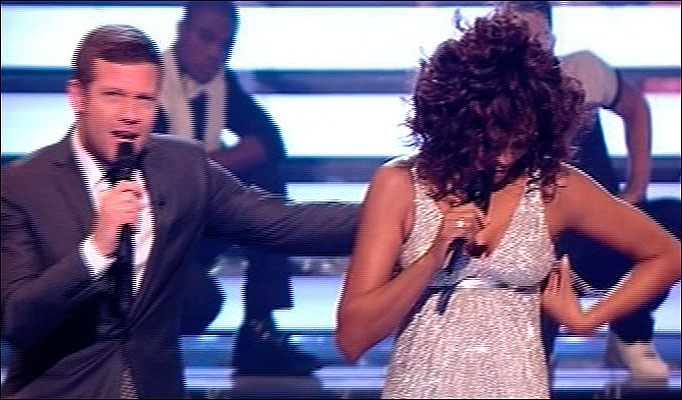 CHEEKY X Factor host Dermot O'Leary reckons Whitney Houston gave him a "death stare" after her shambolic performance on the show.
Explaining how he wanted to help after the strap on her dress came undone during her jittering performance last year, Dermot admitted he feared she would lash out.

He said on The Real Radio Breakfast Show: "You don't want to embarrass her but I'm getting this death stare and thinking, 'do I help her with the dress?' and my producer's in my ear going through the same dilemma as me, going 'I want him to help her - but she will kill him!'"

And he joked about the star shooting daggers from her eyes when he chatted to her after her warbling.

He joked: "You know every now and again you'll meet someone and they'll give you that look as if to go, 'I hate everything about you'? That's the look I got!

"She just gave me this look as if to say, 'I don't know who you are, but trust me, I don't like you'."

And when he was asked by presenters Micky Gavin and Cat Harvey whether he thought she would return to the show, he quipped: "I hope so - she was fun, wasn't she?!"

For Derm's sake, let's hope there are no more wardrobe malfunctions.


NEWSFILE: 16 APRIL 2010