Home...
[From Atlanta Journal-Constitution]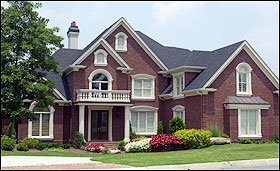 Diva's new digs guarded, gated
Whitney Houston buys house in Country Club of the South

By TINAH SAUNDERS
The Atlanta Journal-Constitution
We've been hearing rumors for months that Whitney Houston and Bobby Brown have bought a home in Atlanta, but have been unable to verify it -- until now!
Thanks to our stable of tipsters and to public records, we can tell you that the diva has bought a home on an acre lot in Country Club of the South, the heavily guarded and gated country club community in Alpharetta.
It's new -- a five-bedroom, five-bath brick traditional in the European style, for which she (the house is in her name) paid $1,388,888 at the end of April 2003. Interestingly, Whitney paid nearly $1,000 more than the asking price for the house, which leads us to believe she made a few additions to the bare-bones builder's version. But a thousand dollars doesn't buy much these days, so maybe she upgraded the carpeting or appliances or added speakers to the sound system. We, alas, were not invited to tour the mansion, so we can only speculate.
The house has both a formal living room and a family room as well as a keeping room adjoining the kitchen. The kitchen has stained cabinets, double ovens, an island and a pantry. There's also an exercise room to maintain that svelte bod and a library or office for keeping up with her reading or, perhaps, all that money from her $100 million contract with Arista Records signed in 2001.
The master is on the main floor, a trend that pleases aging baby boomers who don't want to climb those stairs. Whitney will be 40 on Aug. 9, so she's a little young to be anticipating retirement living. Still, there's a whirlpool tub in the master bath for all those little aches and pains that come with age.
The house, despite its price, is relatively modest. There is no fireplace in the master bedroom, no pool and no on-site tennis court. True, it does have 10-foot ceilings on the main floor and a two-story foyer and, ho-hum, tray ceilings. But there does not appear to be anything spectacular about the house. It is, of course, only one of several homes owned by the singer.
This is not the first time the couple has had a home in Atlanta. In the early '90s, Bobby bought an estate on Powers Ferry Road that once belonged to convicted pornographer Mike Thevis. In 1994, Whitney's holding company foreclosed on the 14,000-square-foot Tudor mansion. It was, explained Houston's representative at the time, an attempt to help hubby with his financial problems.
Although we tried to chat with Houston, Laura Swanson of Arista Records said the singer did not want to comment on her home.
NEWSFILE: 18 JULY 2003