The Comeback...
Telegraph: Whitney Houston: The Comeback
By Neil McCormick
Last updated: July 15th, 2009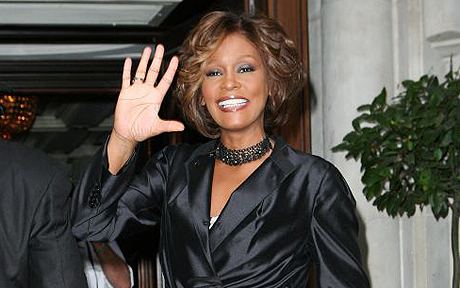 If the last couple of weeks in pop music have been dominated by the death of a superstar, this week marked at least the beginning of the return of another. Whitney Houston was in London for a playback of tracks from her forthcoming album, 'I Look At You', her first release since 2003.

Houston's fall from grace has been well chronicled, when her image went from girl next door to gaunt, confused, drug-addled diva (who famously declared "crack is wack"). But since her divorce from R&B singer Bobby Brown in 2007, she has apparently been making concerted efforts to put her life back on track.

Although she didn't perform, Houston looked in good shape. There was a slightly heart stopping moment when, whilst making a schmaltzy speech ("I love London, you and I go back"), a small, coloured lump of something dropped from about her person onto the stage. Houston stared at this suspicious object, then bent to pick it up, announcing, "I really wanted that piece of candy! But frig it, it happens!" It was certainly better than the alternative, but somehow did not quite dispel all doubts about the extent of her recovery. She strayed from the script when she revealed recording sessions became so fraught, executive producer Clive Davis called her the most impossible person he had ever worked with. Given that Davis's curriculum vitae includes Janis Joplin and Aerosmith, this was saying something. "I'll accept that," commented Houston. "I take that as a compliment."

On the tracks we heard, Houston's voice (surely the most important part of the equation) sounded rich and strong, although a little huskier. It has all the famous ululating flexibility of yore but I kept waiting for the big key change and power note, which never arrives. These days, when she goes for the highest register, she does it with soft falsetto. Many tracks sounded over-thought and contrived, from a Diane Warren power ballad 'I Didn't Know My Own Strength' (full of self-referencing lines like 'I did not crumble", "I was not built to break") to a host of club friendly contributions from contemporary stars, including Alicia Keys and R Kelly. I am not quite sure what a gospel soul singer once acclaimed as "The Voice" is doing duetting with Akon, the new king of auto tune. Best of the bunch was an old fashioned hi energy disco version of Leon Russell's ballad 'A Song For You', on which Houston really sounds like she's enjoying herself, and not trying too hard to prove she's back and she's still hip.


NEWSFILE: 17 JULY 2009