New York, New CD...
People: Whitney Houston Previews New Album
By Joey Bartolomeo
Originally posted Wednesday July 22, 2009 12:25 PM EDT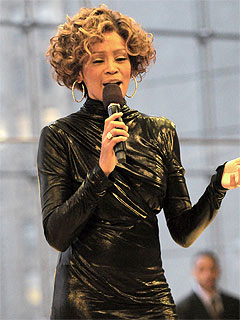 Whitney Houston's much-anticipated new album, I Look to You, doesn't hit stores until Sept. 1, but the singer gave a star-studded audience a sneak preview of nine songs on Tuesday night.

Diane Sawyer, Martha Stewart, Alicia Keys, Vivica A. Fox, and Oprah Winfrey's best friend Gayle King sat front and center at the listening party Tuesday night, hosted by Houston's longtime producer Clive Davis in New York City.

"It took us three-and-a-half years to reach this point," an energetic Houston told the crowd, which also included her daughter, Bobbi Kristina, 16, mother Cissy, and cousin Dionne Warwick. When she spotted King, she told her, "Please tell Oprah I said hello."

Among Houston's new tunes are "Million Dollar Bill," written by Keys and Swizz Beats, which Davis described as "a feel-good song." (Keys stood up, danced, and recorded the scene while the song was playing.)

Davis also previewed two ballads reminiscent of Houston's classic hits, one written by songwriting legend Diane Warren ("I Didn't Know My Own Strength") and one by R. Kelly, who also penned the beat-heavy "Salute."

Houston also collaborated with Akon for "Like I Never Left," which Davis said was the result of her request for "a great island song." Afterward Davis said of Houston – whose last album was released in 2002 – "You realize how much we miss her."

And that was obvious during the final track, a cover of the 1970's classic, "A Song For You," which Davis revealed had only been "completed rough last night." Sawyer led the audience to their feet, and the dancing lasted as Houston took the stage.

In her brief remarks, Houston said her mother had told her, " 'I'm tired of the old songs on the radio. I'm tired of people taking off their clothes … I want to hear a beautiful lyric and a beautiful melody.' And I just hope that what you heard tonight, that's what you got."
NEWSFILE: 22 JULY 2009