New York Listening Event...
MTV: Whitney Houston Debuts I Look To You At NYC Listening Party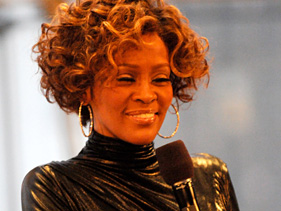 Alicia Keys, Swizz Beatz, L.A. Reid and others help welcome back the diva, who hasn't released a studio album in six years.
By Shaheem Reid
NEW YORK — Swizz Beatz has a thing for millions. He produced and is featured on Maino's "Million Bucks," and now the superproducer has given Whitney Houston a beat for the song "Million Dollar Bill."

Swizz and the song's writer, Alicia Keys, were in the Allen Room in Manhattan's Lincoln Center on Tuesday night (July 21) at a listening event for Houston's first studio LP in six years, I Look to You, along with L.A. Reid, Martha Stewart, Diane Sawyer and others.

Clive Davis presented the album and told a story of how Keys asked him personally to write for the album.

Right from the start, "Million Dollar Bill" displays Houston's billion-dollar voice over a club-friendly Swizz track that blends a rough-riding thump with R&B. Keys got up and danced while taking video with her personal camera as the words she wrote boomed through the speakers.

Houston sings of looking for love and finding a man with potential. "If he makes you feel like a million-dollar bill, say, 'Oh, oh/ Oh, oh,' " she sings on the hook. "It's been a long time since love has come my way. I've been looking and searching for a man to touch this place."

Later, Whitney commands people to dance if they're experiencing good love right now.

"Throw one hand in the air/ Left, right, up, down/ Got you spinning all around, say, 'Oh, oh/ Oh, oh.' "

The audience gave the record a rousing round of applause when it was done.

"Million Dollar Bill" was the first of nine songs Davis played from the album, one of which is a cover of Leon Russell's "A Song for You." The beat was remixed with a dance/club vibe, inspiring the people in the audience to stand up and dance and clap. Houston walked out, dancing and clapping as the record played.

R. Kelly wrote and produced a record called "Salute." The Pied Piper also wrote the title track, which is produced by Tricky Stewart and Harvey Mason Jr.

The power ballad "I Didn't Know My Own Strength" was written by Diane Warren and produced by David Foster.
NEWSFILE: 21 JULY 2009