Dazzling Return...
Daily Mail: Dazzling Whitney Houston makes a triumphant return to spotlight after seven years
By Lizzie Smith
Created 8:40 PM on 14th July 2009 Last updated at 12:28 AM on 16th July 2009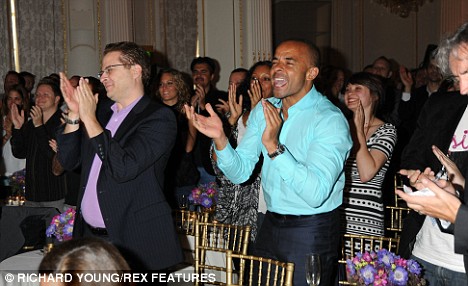 For much of the decade Whitney Houston has been out of the spotlight, fighting to get her once charmed life back under control. But as she arrived in Britain last night, it seemed the tide has turned for the soul singer - as she returned to her dazzling best.

Her gaunt and ravaged look had gone and the polished professional who won millions of fans with songs such as I Will Always Love You was back with a big smile. And a new album, of course.
The 45-year-old arrived last night to launch I Look To You, her first studio CD in seven years, at the Mandarin Oriental Hotel in London's Knightsbridge. She wore a black belted mac which she removed once inside to reveal a flattering black and white Dolce & Gabbana dress. The crowd, including Top Shop billionaire Sir Phillip Green, gave Whitney a standing ovation.

Tracks have already been leaked on the internet, where they have met with a mixed response - the most critical claiming her voice has been ruined. But music mogul Clive Davis, who discovered the soul diva 25 years ago, disagrees. 'You won't forget it after you hear it,' he said, calling the album a labour of love for all involved. 'There is a song on this album which is called "I Didn't Know My Own Strength" and it really speaks for Whitney. 'She tumbled but she didn't crumble.'

In 2001, Houston shocked fans with her gaunt appearance at a Michael Jackson tribute concert in New York. In December 2002, she admitted she had experimented with drugs and alcohol during an interview with American broadcaster Diane Sawyer on ABC. 'I don't like to think of myself addicted... I had a bad habit which can be broken. I'm not gonna tell you I'm somebody's junkie. My business is sex, drugs, rock and roll. Trust me. I partied my tail off.'
Despite her denials, she checked into rehab in Georgia two years later. But since splitting from ex-husband Bobby Brown in 2006 and winning custody of their daughter Bobbi Kristina, Houston has been steadily planning her comeback with the help of J Records boss Davis. And anyone can win her fans back it should be Grammy-winner Whitney. She is the only artist ever to have had seven consecutive multi-platinum albums, beating even the Beatles. Worldwide she has sold 140 million albums and 50 million singles, with I Will Always Love You, released in 1993, becoming one of the biggest selling records of all time.

NEWSFILE: 14 JULY 2009