Whitney Counters Claims....
BBC: Whitney Houston calls drug allegations 'ridiculous'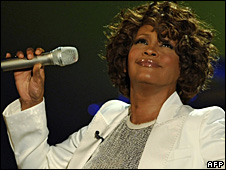 Singer Whitney Houston has shrugged off speculation she is using drugs again after postponing three UK concerts due to illness, calling it "ridiculous".

"I just don't respond," she told People magazine. "I don't even read it."

The 46-year-old was diagnosed with an upper respiratory infection in Paris, after cancelling a concert there.

The soul singer had been due on stage in Manchester on Thursday and Friday this week but will now perform in the city on 16 and 17 June.

Her Glasgow show on Sunday has also been moved and will now take place on 1 May.

Further gigs in Birmingham, Nottingham, Dublin, Newcastle and London are scheduled to go ahead as planned.

Promoter Marshall Arts has asked ticket holders for the Manchester and Glasgow concerts to retain their tickets, which will remain valid for the rescheduled dates.

'Feeling great'

It had been reported in France that Houston had been admitted to a hospital in Paris suffering from nose and throat problems.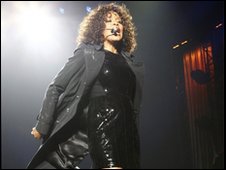 But a statement issued by her record label, RCA, said doctors had visited the singer late on Tuesday and confirmed she was suffering from a respiratory infection.
"Upon medical advice, Whitney has been advised that she cannot perform to allow her time to recover," the statement continued.

Houston, who has sold more than 170 million records, has been dogged by ill health as she attempts a major comeback.

Speaking to People, however, the singer - one of the world's most successful music artists - said she was "feeling great".

"My health is terrific, but this is a time when I get a lot of allergies," she is quoted as saying.

Houston's recent comeback followed a battle with drug addiction and the break-up of her 14-year marriage to singer Bobby Brown.

Released last year, her new album - called I Look to You - was well received by critics, topping the US chart and reaching number three in the UK.

However, a lacklustre performance at a recent show in Australia had fans questioning whether the singer could still match the range of her early vocal performances.


NEWSFILE: 8 APRIL 2010