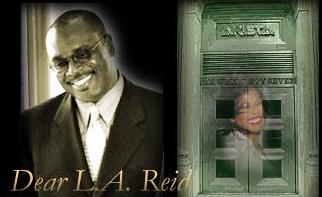 Dear L.A. Reid is the name of the campaign - for want of a better word - in which Whitney Houston fans will be able to channel their thoughts to Whitney's new boss at Arista Records about the promotion and marketing of Whitney's Greatest Hits album.
The US performance of the album has been disappointing in it's first four months and this letter writing campaign has been devised to let L.A. Reid know that Whitney's fanbase expected better for Whitney and for what should be the focal album for Arista in 2000: The Greatest Hits of Arista's biggest selling artist and one of the biggest selling artists in history.
I won't go to lengths to tell you what to write but here are a few important guidelines and points. Ultimately, it's your letter and you should use your own words - that would be most effective:
Be polite. You want your letter read, not thrown in the bin.
Explain you are a Whitney Houston fan
Let Mr Reid know how important you feel The Greatest Hits is
Detail your disappointment with the marketing of the album
Comment on the poor radio performance of the singles from the project
Ask that he address these issues and that you look forward to his comments about his commitment to Whitney Houston and to The Greatest Hits
Remember:
Do Not demand L.A. Reid is sacked or that Whitney should leave Arista!
Do Not be disrespectful or use profanity
Do Not complain about Whitney's artistic choices for duet partners
This is NOT at anti-Arista campaign or a witch hunt. It's a request - Whitney fans want to see this album perform.
Keep your letter to the point and show that you do have faith that L.A Reid can make the album perform as he's having some great success with the Toni Braxton album and success with Pink. He knows his job.
The address to write to:
L.A. Reid
C/o Arista Records
6 W. 57th St.
New York, NY 10019
USA
I would appreciate copies of letters that are being sent, but at the very least, if you could email me to let me know that you have written to L.A. Reid so that we have an effective measure of how many letters are being sent to Arista. I will keep you updated on development.
If you need help constructing your letter, feel free to ask people on the Bulletin Board - there are lots of ideas and suggestions you can get from this thriving forum.
Whitney Houston Webmasters: Please join this campaign and promote it on your website to give maximum exposure to a very important issue for Whitney's fans (& Whitney!!).
Please do your bit - this is your opportunity to have your say in the most effective way possible.