More Miracle On 34th Street Photos...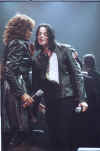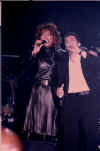 WHITNEY HOUSTON & MICHAEL JACKSON
WHITNEY HOUSTON & MARC ANTHONY
[CLICK ON IMAGES TO VIEW IN LARGER SCALE]

New York Times: Miracle On 34th Street...

The era of the lip-synching, barely singing pop star may be ending. On Tuesday night at Madison Square Garden, WKTU (103.5 FM) had its annual holiday charity concert, ''Miracle on 34th Street,'' a revue of 16 hitmakers (plus two surprise cameos) paying obeisance to the station that helped put them on the charts. And lo and behold, most of them had extraordinary voices. With headliners including Marc Anthony, Destiny's Child, Ricky Martin, Christina Aguilera and Brian McKnight, the concert ran as efficiently as a radio show, and without commercials. The station's disc jockeys appeared onstage only at the beginning, leaving the singer Toni Braxton as host and model, wearing a different
outfit for each introduction.

In an impressive veto of pop-star ego, one orchestra and backup choir accompanied all the performers. Directed by Joey Melotti, it handled styles from thumping dance music to Latin syncopations to gushy ballads, along with a few Christmas songs. It was a night of songs about lust and longing, heartbreak and post-breakup resilience. The songs also outlined WKTU's format, which favors bright, danceable tunes, often with a streak of Latin rhythm. (According to the Arbitron rating service, 28 percent of the station's overall audience over 12 years old is Hispanic; 61 percent of those Hispanic listeners are female.) A troupe of dancers surrounded most of the singers, who either joined in the choreography -- preening before prostrate admirers, knocking away suitors with a flip of the hips -- or confidently
strolled through it.

As spectacle, nothing topped the first number. Gloria Gaynor, in an outsize gold-lame outfit fit for a disco queen, belted ''I Will Survive'' with gospel intensity. Meanwhile, women danced wearing halter tops, short shorts (with glittering GG's on the backsides) and boxing gloves, delivering uppercuts and karate kicks to their ex-boyfriends.

Mr. Martin drew the loudest squeals, singing about the overwhelming power of female allure while he shook his shoulders and pumped his hips.

But the real showpieces were for the ear, in the lavish, far-reaching phrases that came from nearly every singer. During the music-video era, a pretty face has been essential to success, and good dance moves haven't hurt; plenty of merely passable singers got by on studio productions and video clips. Now, with the rise of harmony groups, listeners seem to be demanding full-fledged singers without giving up on the looks or the dancing. As in the glory days of Broadway and movie musicals, top performers are expected to show nearly superhuman abilities.

The vocal standards were high throughout the concert. Mr. McKnight sang with gracious, velvety tone, moving from simple phrases to exultantly ornamented ones. Ms. Aguilera worked over every phrase, refusing to let a note get by without a swoop or a moan. Mr. Anthony carried crooning to clarion trumpeting, never losing his smoothness. Whitney Houston, a surprise guest, sang part of ''The Greatest Love of All'' with Mr. Anthony, letting him peal out her old melody while she toyed with sultry, jazzy asides.

Destiny's Child gave an unaccompanied gospel song striking harmonies, but didn't give their own sassy hits a chance to breathe. Son by Four and 98 Degrees each harmonized a ballad, with Son by Four emoting harder as its song switched into Spanish. And Debelah Morgan and Tamia each pushed their voices skyward, unafraid to be shrill. Deniece Williams and Edwin Starr, survivors from the disco era, gleefully reanimated their old hits. Only Melanie C. (of the Spice Girls), a hoarse Jon Secada and Lara Fabian were out of their vocal league.

For the finale, it was announced that ''a ghost'' was backstage. The performers lined up across the stage and the orchestra started the Jacksons' ''Shake Your Body.'' Then Michael Jackson himself walked on stage, looking ashen and shy. As the singers waited for Mr. Jackson to dance, sing and outdo them all, he quieted the band and announced, ''I can't perform tonight, but I wanted to say 'Merry Christmas.' I love you all, you all have been phenomenal, and the best is yet to come.'' The ghost of pop past accepted some hugs and walked off stage, perhaps thinking about his latest competition.
[Thanks MG]
NEWSFILE: 21 DECEMBER 2000