Whitney Silences Doubters...
Hello Magazine: Whitney Houston silences her doubters with spot-on Italian 'X Factor' performance
22 OCTOBER 2009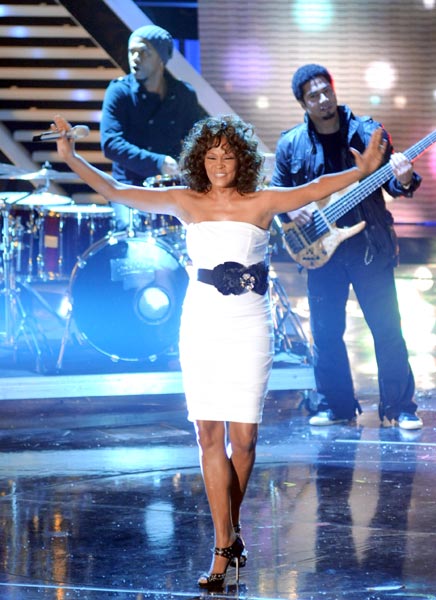 The pressure was on, but Whitney Houston nailed it.

After her wardrobe malfunction on the X Factor at the weekend, and with music critics still wondering if she can really pull off her comeback, her performance on the Italian version of the TV star search was a pivotal one.

Lucky then that she rose to the challenge – delivering a show-stopping live rendition of her track Million Dollar Bill.

The 46-year-old diva had the audience up and on their feet, clapping along as she belted out the track.

And there was no repeat of last week's strap-snapping episode - her elegant white Dolce & Gabbana gown stayed perfectly in place.

Whitney is on course for a top five hit with her new single, which is vying for success in the charts against Cheryl Cole's effort Fight For This Love.

The American diva's track Million Dollar Bill will be her first top five single since My Love Is Your Love in July 1999. She also has one of the week's biggest-selling albums with I Look To You.
NEWSFILE: 22 OCTOBER 2009