Whitney Houston & Clive Davis...
[From ET Online]
The Exclusive Whitney Houston Interview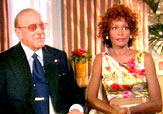 Pop diva WHITNEY HOUSTON is scheduled to perform at tonight's World Music Awards in Las Vegas as a tribute to her mentor and industry father, music mogul/producer CLIVE DAVIS.

Tonight on ET, our own MARK STEINES is exclusively with Clive and Whitney in Sin City to get their take on her career, her life with her daughter and hubby BOBBY BROWN and her road back to health after voluntarily entering rehab in March.

"I'm more relaxed now," Whitney tells Mark. "I'm an older girl now."

Looking gorgeous and looking healthy, with just one glimpse you can tell that Whitney's back. But whatever you do, don't call it a comeback!

"To me, I never went anywhere," says Whitney. "I decided to take my time and live my life and raise my daughter. To my family, I have never gone anywhere; they hear me all the time."

Whitney and Clive have made a major announcement just to ET: the pair are going back to the recording studio to create an all-new album! "We are going to make records again," says Whitney. "Yeah! It's like a new beginning. Like a plateau."

"He's like my dad in a lot of ways," says Whitney about Clive, the man who discovered her more than two decades ago. "I call him my industry father. He's guided me through my career."

"Is Whitney independent? Does she have a strong will? Is she her own personality? Without question," says Clive. "We have an unbelievable chemistry."

Now, Whitney's pipes are rarin' to go and she's ready to take the stage again.

"Ooh, I am gonna make some noise," she says. "I just think about me and the best that I can be. I can't live up to everybody's expectations but my own."

Watch ET tonight for more of Mark's intriguing interview with Whitney and Clive! The World Music Awards air live from Las Vegas at 9 p.m. EST on ABC.


NEWSFILE: 15 SEPTEMBER 2004