Luggage Mountain...
Daily Mail: Whitney Houston arrives for X Factor performance with a diva-sized mountain of luggage
By Richard Simpson
Last updated at 11:07 PM on 16th October 2009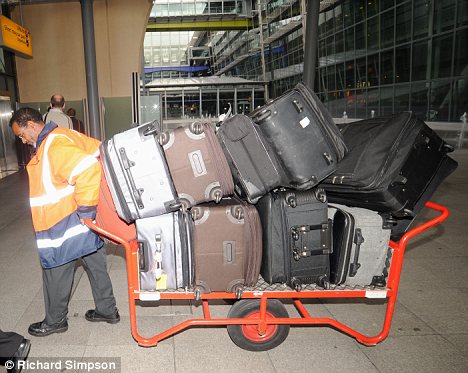 She is only in London for a few days. But Whitney Houston clearly feels she is going to need a few different dress options during her stay, during which she will sing on the X Factor on Saturday night. Miss Houston, 46, flew from Atlanta, Georgia, to Heathrow yesterday morning. And while she was whisked away in a limousine to her top London hotel, her aides watched over the safe arrival of a mountain of suitcases containing the remainder of her belongings.

Miss Houston's essentials had gone with her in the first car. While an airport porter can be seen here struggling under the weight of a trolley carrying 10 further suitcases just for Whitney herself.
Whitney is in London to launch her new album and make her first live UK performance in 12 years on The X Factor.

She was photographed leaving Atlanta airport but, perhaps a little weary from her flight, she avoided photographers at the London end of her flight by leaving through a VIP lounge at Terminal 5.
Miss Houston spent yesterday afternoon having spa treatments at a top Knightsbridge hotel before rehearsing her X Factor performance ready for Saturday night's show.

She is expected to sing her comeback single I Look To You during the guest appearance.
Whitney's new single was released yesterday and she will be hoping her ITV appearance will boost sales considerably. It comes from her new album, her first studio album since 2002.

On the same show, Cheryl Cole will be performing her solo single, Fight For This Love. Whitney said of her upcoming X Factor performance: 'It should be a fun night. I am a fan of Simon Cowell's and look forward to meeting him.'
Miss Houston's CD I Look To You went to number one in the US album chart with 305,000 sales.
Recently, Miss Houston gave her first interview in seven years to Oprah Winfrey. She told her how her mother forced her into rehab.

She admitted to Winfrey she would smoke marijuana and crack cocaine at the same time but says she is now drug free.
Meanwhile show bosses have announced Grammy Award winner Michael Bublé and group Westlife, are to perform live on The X Factor next weekend.
Michael will perform from his new album 'Crazy in Love' – his first album for two and a half years - which has just entered the US charts at number one. While Westlife will perform their new single 'What About Now' on the day of the performance, 25th October.
Last week, Robbie Williams, another former drug user, appeared on the show looking wild-eyed, prompting speculation as to whether his party days were in fact over
NEWSFILE: 16 OCTOBER 2009