When asked what she thought of the contestants, Whitney looked at the floor and said: 'I thought that they were....um.... how do I put this really good?'
Whitney appeared lost for words when asked to sum up the acts, and fiddled with her nose before saying: 'So that's um... they're young. They have a lot of room to grow... Um, like Clive told me, practice, practice, practice.'
Whitney mentioning Clive gave Dermot a welcome diversion from the awkward interview as he drew the camera to the music mogul who discovered Whitney.
Whitney's strange behaviour on the show comes a week after Robbie Williams - who has also battled addiction - made headlines with his wide-eyed appearance.
Following a negative response from critics, Robbie admitted he was incredibly nervous after his entrance was disturbed by a malfunctioning door. He said: 'I wasn't as nervous as I thought I was going to be... until the sliding door wouldn't open.'
While Whitney's voice was evidentially declined somewhat since her Nineties heyday, she still managed to put on rousing performance of her new song. Like a true professional, she carried on singing as the strap on her silver dress came loose during her set. As she was approached by Dermot, she joked: 'I sang myself out of my clothes.' Celebrity fans watching the X Factor critiqued her set on micro-blogging site Twitter. Peter Andre wrote: '...I still love Whitney though, I mean she IS a living ledge (legend). Just not tonight for me.'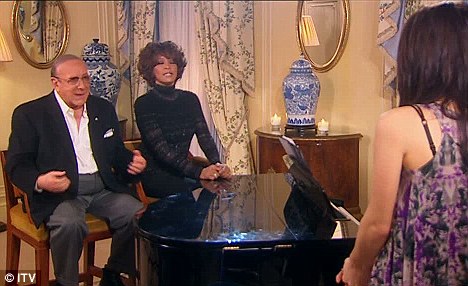 Philip Schofield believed X Factor judge Cheryl Cole's performance of Fight For This Love was better: 'Well I think Cheryl was better then Whitney!! Is that controversial?'
Her appearance on the X Factor marked her first UK TV appearance for 12 years.

While the music industry is glad to see Whitney back after a difficult period in her personal life, the quality of her voice has obviously been affected by her drug use. In an interview on the Oprah Winfrey Show earlier this month, Whitney admitted she used to take cocaine with marijuana.
Admitting her drug use became 'heavy' after the 1992 film The Bodyguard, Whitney said: 'You put your marijuana, you lace it, you roll it up and you smoke it... itís like heroin and cocaine speedballing, but you level it off, with marijuana.'
Whitney finally conquered her demons three years ago when she checked into rehab with the support of her mother Cissy Houston and Clive.
She then found the courage to leave ex-husband Bobby Brown after a rocky relationship.


NEWSFILE: 19 OCTOBER 2009