Comeback Queen...
Daily Mail: Cheryl Cole delivers 'incredible' performance on X Factor as comeback queen Whitney Houston almost loses her dress
By Sara Nathan, Jo Clements and Chris Johnson
Last updated at 12:17 PM on 19th October 2009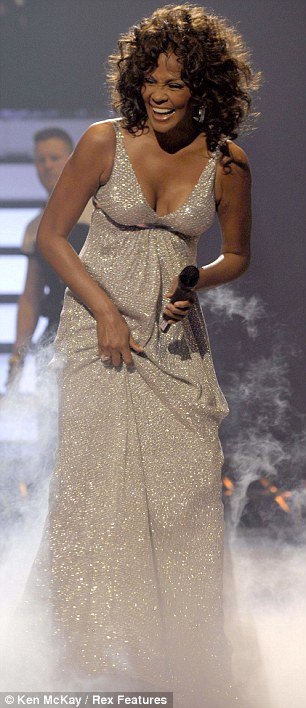 She was dreading performing on the same night as music legend Whitney Houston, but at least Cheryl Cole managed to keep her clothes on.
The Girls Aloud star was first up on X Factor last night as she took to the stage in a red and black military-inspired outfit to sing Fight For This Love.
But soul diva Whitney Houston was left red-faced after a strap at the back of her long silver dress snapped open midway through her performance of Million Dollar Bill.
The 46-year-old singer, making her first UK TV appearance in 12 years, shrugged off the wardrobe malfunction, however, joking to host Dermot O'Leary afterwards: 'I sang myself out of my clothes.'
Cheryl and Whitney put on show-stopping performances, but both appeared to be singing over pre-recorded vocals.

Miss Cole, 26, who performed an energetic Janet Jackson-style dance routine with a group of backing dancers, apparently sang the first verse her debut solo single live. But she then she appeared to lip-synch through the rest of the song. 'Her vocals sounded a little shaky during the first part of her performance, but then it miraculously came together,' one audience member said. 'It was fairly obvious she was miming. Even the live bits were sung over a very prominent backing track.' But afterwards, Simon Cowell gave his fellow judge high praise, describing her performance as 'incredible'.
He told her: 'That was incredible. I'd have you in my category any day. You've got a lot of stick this week, but it's really hard coming from there [the judge's seats] to up there [the stage].

'But that was an incredible performance. And unfortunately you're going to be number one next week.' Despite slating X Factor rejects Kandy Rain last week for their provocative clothing, Cheryl wore an almost identical sheer black top to that of Coco Lloyd, one of the four members of the band. She teamed her outfit with a red hat and jacket, and black trousers slashed down the sides, and after her performance told host Dermot O'Leary: 'I feel fantastic. I've really enjoyed myself.' She added: 'It feels like a blur, it took me back to Popstars:The Rivals - I just wanted to say thank you, I'm personally overwhelmed by the support I've had since I joined this show, the production, crew, everyone, you've all made me feel so at home.'

She then sank into Dannii Minogue for a hug as she returned to her seat in the studio. Miss Cole, who was made an X Factor judge last year, had confessed she was 'nervous' about performing solo and had said she wasn't going to invite family or friends to the studio.

But when cameras panned across the audience, the singer's Girls Aloud band mates Sarah Harding, Kimberley Walsh and Nicola Roberts were seen cheering her on. Her husband, footballer Ashley Cole, was also there to watch. But the night wasn't a complete triumph - Miss Cole's act, Rikki Lonely, was eliminated from the competition after finding himself in the bottom two.

She had been criticised for choosing Aretha Franklin's Respect of the 21-year-old and she later said she was 'gutted' he was voted out.

Michael Buble and Westlife are set to perform on next week's Sunday night results show.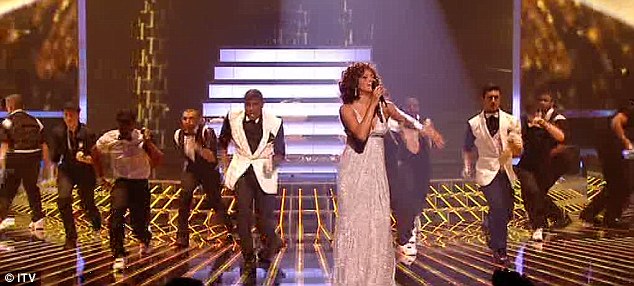 NEWSFILE: 18 OCTOBER 2009