Whitney's New Look...
Variety: New 'Look' for Whitney Houston
Album crafted as year's biggest comeback story
By STEVE CHAGOLLAN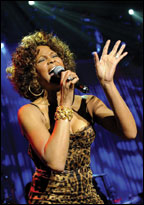 Anybody looking to fashion a narrative for Whitney Houston on the eve of the release of her first album of new material in seven years need look no further than the songs on "I Look to You."
With titles like "Million Dollar Bill," "Nothin' but Love," "Like I Never Left" and "I Didn't Know My Own Strength," themes of undying love, unyielding faith, triumph over adversity and defiance against the "doubters and the haters" point to an album (to be released Monday by Arista) custom-crafted to frame Houston as the year's biggest comeback story.

It won't be an easy task. Her last mainstream studio effort, 2002's "Just Whitney," peaked at No. 9 on Billboard's Top 200 current album chart, selling some 730,000 units. By contrast, Houston's last No. 1 album, the soundtrack for "The Bodyguard," topped the chart for 20 weeks in 1992-93 and sold 42 million discs, according to Gary Trust, charts manager for Billboard.

What "Just Whitney" didn't have was the careful, nurturing guidance of Clive Davis, who signed Houston to Arista in 1983 and has been behind her most successful recordings. Davis coaxed Houston out of semi-retirement with a phone call 3½ yeas ago. "I just said, 'It's time,' " Davis told Daily Variety. "I was getting so much mail literally from all over the world. People wanted their Whitney. They missed her; they missed what she stood for, and I just relayed that to her."
As he did with her first album -- "Whitney Houston" (1985), which topped the Billboard 200 chart for 14 consecutive weeks, making it the bestselling debut album by a female artist -- Davis spent more than 2½ years compiling material for the new package designed to best showcase her talents. "What we have tried to stand for is great songs done by a great vocalist," he said. "If it ain't broke, don't fix it."

Songwriters and producers on the disc include proven hitmakers like Alicia Keys, R. Kelly, Diane Warren and David Foster. It includes a mix of uptempo numbers, power ballads, dance grooves, the proverbial duet and even a classic cover, Leon Russell's "A Song for You." The album has been the centerpiece of a carefully calibrated campaign by the label dating back to June, when a timer on Houston's official website, Whitneyhouston.com, began counting the days, hours and minutes leading up to the album's launch. It could also be seen as the countdown to the relaunch of Houston's career.

Despite her chart-busting success in the 1980s and '90s, Houston's star has dimmed in the new millennium amid rumors of substance abuse, flighty behavior and a tumultuous marriage to singer Bobby Brown that ended in divorce in 2006.The slow build for "I Look to You" began in earnest at Clive Davis' annual pre-Grammy party in February, when Houston followed perfs by Barry Manilow, Jennifer Hudson and the Kings of Leon with a closing medley in front of a packed house of pop royalty and rising stars, including Paul McCartney, Prince, Quincy Jones, Babyface, Taylor Swift, Rihanna and Katy Perry.

"She came on after midnight," Davis recalled, in front of a room full of "gilt-edged, class-A celebrities. Everybody stayed." Jamie Foxx reportedly shouted, "She killed it!"

In July, Davis hosted a trio of listening sessions for the new album in London, New York and L.A. that were designed to reintroduce the singer to the public. Invitees included "tastemakers, industry people, radio sales, critics and music writers," said Scott Seviour, senior VP marketing and artist development, RCA Music Group. As at Davis' party, the celeb quotient was high at all three events, including Martha Stewart, Dionne Warwick and Diane Sawyer (to whom Houston uttered the infamous "crack is whack" remark in a 2002 interview) in New York and Stevie Wonder and Jane Fonda in L.A.

Two singles were released on the airwaves last week, "I Look to You," targeting the urban marketplace, and "Million Dollar Bill," sent to Top 40 radio. There was also a free giveaway of the title track to anyone who visited Whitneyhouston.com last week between Tuesday and Friday. On Monday, the album became available as an official stream on Houston's website.

Online previews of the album have been mixed but largely positive, with the L.A Times describing Houston's vocals as "more brawny than soaring these days." USA Today declared the disc "worth the wait."

Seviour said the label plans on shipping 600,000-700,000 units to retailers. "If this was five years ago, we'd probably be shipping 1.3 million records," he said. "But because digital is such a variable, and it's unlimited, the (shipping) number doesn't look that big." Since both Seviour and Davis see the album as loaded with singles potential, digital downloads could make up for less-than-stellar disc sales.

With No. 1 debuts over the course of 2009 mostly in the low six-digit range, industry watchers are keeping a close eye on the album's opening salvo. Eminem's "Relapse" has been the only album to breach a half million in sales (608,000) during the calendar year, with U2 the next closest at 484,000, according to Trust. The last artist to top a million was Lil Wayne in June 2008, said Trust. There are currently no plans for Houston to tour, and the label, with the help of PMK-HBH, is limiting Houston's exposure to a few key TV appearances for now. Houston will perform Sept. 1 on "Good Morning America," which has been trumpeting the singer's appearance for weeks, and she'll also be on "The Oprah Winfrey Show," which will devote the entire hour to the singer on Sept. 14.

"I'm sure that she will have more live engagements," said Davis, "but I'm more interested in her doing these shows. When she does television engagements, you're talking about reaching millions of people, not 15,000. She's really more akin to Streisand than she is a rock artist. You're not going to get Whitney Houston doing one-nighters."

Questions regarding Houston's health and stamina, or whether she has anything to prove, were brushed aside by Davis. "I'm not trying to sugarcoat anything," he assured, "but she did speak at length at those presentations. And don't forget she did perform at my Grammy party last February."

As to whether Houston's career can thrive in today's pop paradigm, Davis -- who has a hand in reviving and reinventing the careers of Carlos Santana and Rod Stewart -- underscored Houston's timeless appeal. "She's in the tradition of Ella Fitzgerald, Lena Horne, Billie Holiday, Aretha Franklin, Streisand -- there are just a handful who are the voices of all time. Plus, she looks great."
NEWSFILE: 26 AUGUST 2009