Encore...
New York Daily News: Whitney's encore: A once-broken diva finds the will - and voice - to step back into the spotlight
BY Jane Ridley
DAILY NEWS STAFF WRITER
Monday, August 31st 2009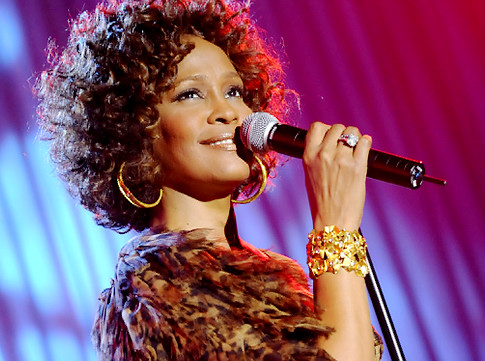 Her smile is radiant, her eyes no longer bloodshot and her once-skeletal frame is elegant again.

Billed as the comeback of the century, Whitney Houston's long-awaited return to the microphone could mark her salvation. The troubled diva, who had been trapped in a squalid spiral of substance abuse, is putting out her first album in seven years today. Friends believe the release caps the rescue of an American icon whose talent was nearly snuffed out.

"We all crossed our fingers that her beautiful story would end happily," said actor and musician Jamie Foxx, speaking about the new R&B collection, "I Look to You."

"This is a new beginning."

Houston credits her 15-year-old daughter, Bobbi Kristina, with giving her the confidence to try to resurrect her career.

"She was with me every step of the way," the 46-year-old former icon has revealed. "She encourages me and inspires me. When I look at her eyes and I see myself, I go, 'Okay. I can do this. I can do this.'"

If anyone could do with another chance, it's Houston.

Many people are still shocked that the one-time goody two shoes, responsible for an astonishing 170 million record and video sales, could fall so spectacularly from grace.

Now apparently free from the drugs and alcohol that brought her down — as well as 180 pounds of useless flab in the form of thuggish ex-husband Bobby Brown — she is determined to reclaim her self-respect and the love of fans.

Houston's rehabilitation involves the inevitable TV interview with Oprah Winfrey, scheduled for Sept. 14. The performer is expected to reflect on how her charmed life was rudely interrupted.

Born into music royalty in Newark (mom Cissy was a Grammy Award-winning soul and gospel singer, Dionne and Dee Dee Warwick were cousins, Aretha Franklin was her godmother), she was cosseted by a deeply religious family who closely monitored her early career.

Houston declined a number of recording offers until 1983, when music mogul Clive Davis, then head of Arista Records, offered her a 20-year recording contract.

Houston, also in demand as a model, went on to win six Grammys, was named by Rolling Stone as one of its "100 Greatest Singers of All Time" and starred opposite Kevin Costner in a 1992 romantic thriller, "The Bodyguard." Further movie projects included the lead in the critically acclaimed "Waiting to Exhale" and The Preacher's Wife" with Denzel Washington.

But it was her heart-stopping, supercharged voice — belting out chart-topping hits like "I Wanna Dance With Somebody" and "Greatest Love of All" — that made her Forbes magazine's highest-earning African-American woman in 1987.
n she wed Brown. Six years her junior, the rapper had a bad-boy image at odds with his gorgeous bride's. The union had mismatch written all over it.

Reports soon surfaced about the couple's erratic behavior. There were claims of domestic violence, drug use and unsuccessful spells in rehab. In 2000, Houston was fired from the Oscars telecast because she kept fluffing her lines. A year later, she appeared at a concert in New York looking so thin and disoriented, shocking headlines implied she was close to death.

In 2002, in a now-infamous interview with Diane Sawyer coinciding with the release of her last album, a jittery Houston scoffed at claims she smoked crack.

"I make too much money to ever smoke crack," she declared. "Let's get that straight, okay? We don't do that. Crack is whack!"

In 2005, she agreed to "star" with her husband in his train-wreck reality series "Being Bobby Brown."

A few years earlier, her father, John, had warned: "Stick with him [Brown], and you're gonna die." His prediction almost came true in March 2006, when she hit rock bottom. The National Enquirer published pictures of Houston's bathroom in Atlanta, a scene littered with the drug paraphernalia of a junkie.

Mercifully, the horrendous publicity proved to be a wakeup call, the start of a long trek toward stability. Eighteen months later, Houston finally divorced Brown and won custody of their daughter.

She reconnected with her Svengali, Davis, 77, now head of Sony Music. With the help of teen Bobbi, he has led her back into the light.

"Whitney is Whitney," Davis told MTV, reaffirming his faith in his protegée. "And there ain't nobody like her."

Veteran singer Freda Payne, a Houston friend best-known for the hit "Band of Gold," endorsed her return to the recording studio.

"The public will embrace her because we miss the Whitney we adored," said Payne. "I'm so happy she is coming back. She is in my prayers."

And in the prayers of all her fans.


NEWSFILE: 31 AUGUST 2009