Whitney Houston Debuts At No.1 On Billboard 200...
MTV: Whitney Houston Looks To #1 On Billboard
The diva's comeback seems secure, as I Look to You sells 311,000 in its first week.
By Gil Kaufman
Sep 9 2009 12:21 PM EDT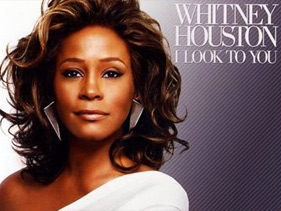 After seven years off the charts, Whitney Houston has proven she's still got it. The R&B diva will debut at #1 on next week's Billboard 200 albums chart with her comeback album, I Look to You. The LP notched 305,000 in sales last week (and 6,000 copies were sold before its official release), a strong showing that handily outperformed 2002's Just Whitney, which managed just 205,000 in its first week for a #9 debut.

There is plenty of company in the top 10 this week for Houston, according to numbers provided by Nielsen SoundScan, with five other debuts. Trey Songz comes in at a solid #3 with Ready (131,000). The Juggalos came out for makeup rappers Insane Clown Posse, whose Bang! Pow! Boom! is #4 (50,000). Hard-rockers Chevelle have a respectable debut at #6 with Sci-Fi Crimes (46,000), rapper Pitbull pulls into #8 with Rebelution (41,000), and emo rockers the Used hit #10 with Artwork (35,000).

Other than that, the rest of the top 10 is mostly unchanged: Miley Cyrus climbs up a notch to #2 with her Wal-Mart exclusive EP Time of Our Lives (153,000); Colbie Caillat drops four spots to #5 with her second album, Breakthrough (47,000); Kings of Leon bump down three spots to #7 with the still-strong Only by the Night (45,000) and Taylor Swift's equally indomitable Fearless holds at #9 (35,000).

Just outside the top 10, the Black Eyed Peas' The E.N.D. (Energy Never Dies) falls to #11 (34,000) as it passes the platinum mark three months after its release. Classic rockers the Black Crowes land at #12 with their double live/studio disc Before the Frost ... Until the Freeze (32,000), and Young Chris debuts at #19 with Man I Want to Be (26,000).

It was a brief sojourn in the top 10 for English alt-popster Imogen Heap, whose Ellipse shed nearly 70 percent of its first-week business to drop 24 spots to #29 (15,000). The Josh Homme-produced third effort from the Arctic Monkeys, Humbug, got the cold shoulder, as it dropped more than 60 percent from its debut, swooning 35 spots to #50 in week two (10,000). And rapper Beanie Sigel's Broad Street Bully didn't have much punch, debuting at #77 (6,000).

Next week's charts should be on fire, with the chart debut of the Beatles reissues, Jay-Z's The Blueprint 3, and new ones from Boys Like Girls, Raekwon and Phish.


NEWSFILE: 9 SEPTEMBER 2009