Rodney On The Duet...
[MTV News Report]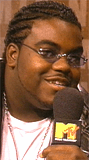 Professional diva Whitney Houston has a greatest-hits album in the works, and the project promises to include a handful of new and reworked tracks, including a pairing with a diva of another sort... George Michael.
The song featuring the duo will be "If I Told You That," which already appears in solo form on Houston's 1998 LP "My Love Is Your Love."
Handling the production duties on the duet will be Rodney Jerkins, who gave the details to MTV News' John Norris backstage at last week's Grammy Awards.
"It's supposed to be a duet between her and Michael Jackson," Jerkins began. "We couldn't get the Michael Jackson thing to happen, so George Michael was the next pick. I think he's gonna nail it. I can't wait to do the vocals, and everything's gonna be incredible." [RealVideo]
Other duets planned for the Houston package are one with Deborah Cox as well as "Could I Have This Kiss Forever" with Enrique Iglesias, a song which can be found on his "Enrique" album. The collection is due out in May (see "Whitney Recruits Enrique, Q-Tip For Greatest Hits").
-- Andréa Duncan
NEWSFILE: 1 MARCH 2000