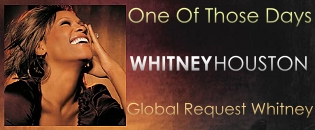 Whitney Houston has enjoyed some of the best airplay in many years in the US & Europe from singles generated from the "My Love Is Your Love" album.
Global Request Whitney has had remarkable success in assisting the US airplay profile of the 'My Love Is Your Love' single. Now, the campaign moves on to the new songs from her forthcoming 2002 album.
The radio stations listed in this delightful orange colour are the AC stations which should be contacted to request the songs alongside the pop/urban stations.
Below is a list of prominent radio stations and music television programmers and a direct link to their e-mail addresses. Please call your local radio station each day - tell then you love the show/station and request the new Whitney Houston single.


Use This Link To Request Whitney's Video On MTV

MTV Jams Countdown -- 1-800-DialMTV

MTV Select UK (email request) -- selectuk@mtvne.co.uk
VH-1 UK - http://www.vh1online.co.uk/
Radio One - Most Wanted Request Show

MTV Asia - mwasia@mtv-asia.com
VH1 - mysay@vh1mail.com
BET - videolink@BET.com

ondemand@muchmusic.com
[Canada's video program on TV - remember to write My love is your love in the email subject line]

www.muchmoremusic.com
Much Music video program on Canadian TV

Atlanta, GA
bbrown@star94.com
tstgeorge@star94.com

http://www.v-103.com.contactus.asp

KHFI Austin, TX Top 40
Requestline: (512)390-5434 just added MLIYL so request this song
www.khfi.com(site coming soon)

Baltimore, Washington, D.C., VA,
z104fm www.z104.com currently playing MLIYL but airplay needs to increase
michael@z104.com thinks My Love Is Your Love is Whitney's best song
jay@z104.com
troy@z104.com
klein@z104.com

Baltimore
b102.7
priestly@b1027online.com
kristin@b1027online.com
midday@b1027online.com
bpasha@sprynet.com Bill Pasha is the station's music programmer

Lite102
410-481-5483 WLIF

WWMX 106.5fm
410-4811065
site- www.mxfm.com
emails
morning show hosts: kenny -kennyc@wwmxfm.com
jojo-girard31@home.com

Boston, MA
#8 Boston, MA Kiss108fm Top 40
http://kissfm.amfmi.com/contact.html - email addys for djs
music@kissfm.com request line 617-931-1108
artietomo@aol.com 8@8 countdown
ILFTB Added [3 March 2000]

Mix98.5 AC www.mix985.com
request line 617-931-1234
http://www.mix985.com/fcontact.html djs email

Bristol, Tennessee USA
WAEZ 99.3 FM
Top 40/Urban
Website: www.electric993.com (follow request link to use online submission form...the following cities can be used: Johnson City, Bristol, Kingsport)
To vote for 'nine at nine' call 1-888-WER-HITS, 7:00 PM to 8:45 PM EST)

Charlotte, NC
WBAV FM-V101.9fm
(704) 786-9111
email: gocarolinas.com

Chicago
B96 #3 market for BDs
email b96@aol.com
312-591-9696 OR 847-591-9696
currently playing MLIYL and noted ILFTB

Lite 93.9fm
WLIT 93.9 listener line (24hrs from any area code) 591-WLIT (9548)
site- www.litefm.com

IL WKIE 92.7fm (312) 591-kiss
top 40 -added MLIYL

Columbus, OH
WNCI pop (614) 430-9624
www.wnci.com

#33 WNCI 97.9fm
www.wnci.com PH (614) 821-WNCI Top 40-added MLIYL




Colorado Springs, CO
KKMG 98.9magicfm top40/dance
www.listentomagic.com Request: 719-596-2442 or 719-59Magic/54magic
badboyrobryan@989magicfm.com afternoon and Prg.Director
ck@989magicfm.com Morning valhart@989magicfm.com Midday Asst. PD
lazorman@989magicfm.com morning show
Added ILFTB

Dallas, Texas
B97.9 KBFB
mailto:KBFB@KBFB.com
phone: 214-787-1979
fax: 972-988-FAXB
website: www.kbfb.com

103.7 KVIL
mailto:literock1037kvil@cd.com
website: www.kvil.com

Dayton, OH
WBTT 94.5fm pop/crossover
www.thebeat945.com Request Line (937) 224-1137
dinorobi@jacor.com Program Dir. dinorobitaille@clearchannel.com
added ILFTB & MLIYL

Detroit
Q95 pop/crossover station 248-967-3750
www.q955.com

Denver, Colorado
KALC (105.9 FM) - (303)572-7000; http://www.alice106.com

Dothan, AL
Star101.7
(334)-702-1017
email: jeffs1017@aol.com

Grand Rapids, MI
WSNX 104.5 Top 40
request line 616-770-8104
www.wsnx.com/contacts.html djs email addy
www.wsnx.com/requests.html request mail

Greensboro-Winston Salem, NC
WKZL 107.5fm
(800) 682-1075 or (336) 274-8042
www.1075kzl.com

Hartford, Connecticut
WKSS (95.7 FM) - (860)247-9570; comments@kiss957.com
WTIC (96.5 FM) - (860)247-9696; wtic@wtic.com

Houston , TX
Houston 97.9fm
thebox@kbxx.com
mailbox@104krbe.com 104.1fm

Magic 102
http://kmjq.com
An urban contemporary station , Whitney's I Learned From The Best Reached Top 5

Mix 96.5
http://www.khmx.com
A mix station (pop/urban)

K104 http://www.www.k104fm.com
One of the biggest R&B stations in the world.

This site list all the mail inboxes for radio stations in texas:
http://www.governor.state.tx.us/music/radio.corpus-victoria.htm

Indianapolis, IN

Wzpl ZPL991/2fm Pop www.wzpl.com (go to contact link and request-cities,
South Bend, Indianapolis) djs-Greg, dave, kelly, ted
Request line:(317) 239-1099
Morning show Julie &Steve: jpatter@wzpl.com, sking@wzpl.com

107.9 WTPI AC Request Line (317) 239-1079
wtpiair@wtpi.com/airstaff/ (Pick one dj's name and type on subject
line-kelly, steve, oleta, jerryp,pat) ILFTB currently #7*-9 on the playlist (as at 10 Jan 2000)

Kansas City
request@mix93.com

#30 Kansas City KCHZ Z95.7 top 40
www.z957.net ph.816-576-7957 added MLIYL
top20vote top20@z957.net
allrequest party-mikeo@z957.net 7-midnight
christa christap@z957.net 10-3pm
mike austin Maustin@z957.net 3-7pm

Kingsport, Tennessee USA
WTFM 98.5 FM Format: AC
Website: www.wtfm.com E-mail: comments@wtfm.com
(ILFTB is already on their playlist with 21 spins last week)

Las Vegas, NV

#42 KLUC 98.5fm top 40 (702) 364-9898 request line
fax request line: (702) 889-7373 www.kluc.com
Morning show bo & dangerboy- catt@kluc.com
jocks@kluc.com (Put any one of the following dj's name in the subject
line-JB, Tim, Jenna) music@kluc.com (Music Director-Melisa Stefas) playing
ILFTB

KMXB Mix94.1fm www.kmxb.com (AC/Lite Rock)
request line (702) 364-9400), fax line (702)732-1100
mark@mix941.fm, nikki@mix941.fm, paulsands@mix941.fm, lori@mix941.fm (Lori Synder-Prog.Dir.)

KCEP Power88fm-urban/soul/ www.kcepfm88.com (can't email)
request line: (702) 647-3688


Los Angeles

Hot 92 Jamz www.hot923.com
Equest (Request Page)

Power 106- Urban station - www.Power106la.com
Power106LA@aol.com (for request)
Eman@power106la.com (music director)

Kiis 102.7-Pop station- www.kiisfmi.com
kiisfmradiodude@yahoo.com (for request)
1-800-520-1027 - Added ILFTB (2 March 2000)

Kbig 104.3-AC- www.kbig104.com
billy@kbig.com (for request)

(KOST 103.5-Adult Contemp.)
MikeATKOST@aol.com (for request)

KKBT 92.3 the beat-urban-www.thebeatla.com
I don't know there email addy but their website is really easy to navigate and you can email them directly at the web address.
You have to have flashpoint though.

KYSR (98.7 FM) - (800)STAR-987; simmsg@star987.com

KJLH-FM 102.3
Location: Inglewood
Format: Urban Contemporary
Phone Number(s): 310-330-2200; fax: 310-330-5555


Ft. Meyers Beach, FL
WXKB B103 Top 40
request line 941-765-1039 email WXKB@B1039.com
site www.b1039.com Email djs: jh@b1039.com Jeff Hickcox
cc@b1039.com Chris cue, Ds@b1039.com

Memphis, TN
WKSL 107.5kissfm (901)375-1075#46
www.1075kissfm.com added MLIYL-top40
request@1075kissfm.com, robin@1075kissfm.com (robin cole),
chris@@1075kissfm.com (chris Taylor), sean@1075kissfm.com (sean denero)
www.1075kissfm.com/email.htm email requests and djs

KHTN Merced, CA
Hot 105FM Top 40 pop
Request 209-383-5848 www.hot105.com
reneroberts@hotmail.com

KPSI Power Radio 100.5fm www.powerradio.com
Rhythmic/Chr (760) 323-1005 ILFTB#48
Rickmoorten@powerradio.com 5:30-10am djqwest@powerradio.com 7pm-12am
craigmichaels@powerradio.com 10-noon, Duanewayne@powerradio.com 3-7pm

Miami/Ft. Lauderdale, FL
www.y-100.com Y-100fm
requests 1(954)-550-9100
suzy@y-100.com
Richr@y-100.com
Kenny@y-100.com


Minneapolis-St Paul
www.kdwb.com
requests@kdwb.com

or email the DJs
flyshow@kdwb.com Tone E. Fly
scottydavis@kdwb.com Scotty Davis
london@kdwb.com Jon London-Morning show

www.kdwb.com/ click on left on the index @ Twin Cities most wanted icon, type in Whitney Houston's My Love Is Your Love

Nashville, TN
#44 WRVW request line (615) 737-9107 top 40
www.1075theriver.com- vote for MLIYL on the countdown on the site
breeze@1075theriver.com (billy breeze 3-7pm), tom@1075theriver.com (tom Peace
noon -3pm) cruz@1075theriver.com (Cruz 7-midnight, 8@8 countdown)
programming@1075theriver.com

Nassau-suffolk (Long Island)
WXXP Party 105.3
Request: (516) 955-1053 dance/pop/hip-hop
Leo G10-3pm leo@party105.com,Skyy@party105.com 3-6pm
vic the Latino latino@party105.com 6-10
phathead@party105.com (MLIYL got as high as #3)

New York City
New York City WHTZ Z100
1-800-242-0100 pop/crossover/dance
zmorning@z100.com Morning
cubby@z100.com Rush Hour
requests@z100.com
lisat@z100.com
played INRBIO and MLIYL remixes

WKTU New York City 103.5fm
email: Ktulive@aol.com, info@ktu.com ph: 1(800) 245-1035
currently playing I Learned From The Best, My Love Is Your Love and It's Not Right But It's Okay

WBLS
jc@wbls.com
jfox@wbls.com
doug@wbls.com Doug Banks-morning show/syndicated-seems to like Whitney
sergio@wbls.com

106.7 WLTW A/C
(212) 603-4600
email: contact@1067litefm.com
Website http://1067litefm.amfmi.com/

WALK FM 97.5
www.walkradio.com
An AM/FM Station
Phone: (516) 475-5200 | Studio: (516) 955-9750 | Fax: (516) 475-1FAX

WPLJ 95.5fm Top 40/AC
Request line (800) 321-wplj (9755)
Kim Asley-Kim@plj.com
Scott and Todd in the morning-bigshow@plj.com
joeykramer@plj.com
Dave Stewart davestewart@plj.com
Race Taylor race@plj.com

[Secondary station] 93Q Syracuse, NY Top 40
www.93q.com request Line (315) 421-9393
Jim Donovan 2-6pm bigjim@93q.com
Fimmy Olson 10am-2pm jimmyo93q@aol.com
Amy Robbins 5:30-10am amy@93qmail.com


Northern Virginia/Washington, D.C
AC stations
WBQB 101.5fm
Request line 800-685-1015
email: mclifford@wbqb.com Mark Clifford & Bridge Dean (Breakfast Flakes i.e. morning show)
Trapper Young 9am-2pm tyoung@wbqb.com
Jay Edwards 7pm-midnight jedwards@wbqb.com

Best of the 80's and 90's
WNIUC Request Line 800-662-WINC (9462)
djs-Michelle Mackenzie 7pm-midnight (takes request and really nice)
H.B.Lloyd 9am-2pm-really nice areas that they cover where (Washington, DC, Alexandria, Fairfax, Arlington,
Falls Church, Ft. Belvoir, Lorton, Dale City, Woodbridge)

WKYS --93.9fm 202-432-9597
RussParr &Olivia Fox morning show
1-877-parr-sho /1-877-727-7746
E-Mail wkysdc@aol.com
1-877-346-8883 fax
Urban/R&B-Hip-Hop- they have played HH, INRBIO RJ remix and MLIYL (a lot)

WPGC 95.5fm 202-432-9595 R&B
Donnie Simpson morning show-loves Whitney
Played HH, INRBIO and MLIYL

Norfolk Va
www.103jamz.com
6am-10am:The Supreme Team Cheryl Wilkerson CWWradio@aol.com
Chase Thomas or Herman Hurston Bigmorning@aol.com

These guys and gal have shown Whitney considerable love in the past.
Should have no problem getting Fine on the air with them.

10am-2pm:Donya Blaze Donyablaze@hotmail.com
Has tremedous love for Whitney. Fine should have no problem becoming a staple in her rotation.

2pm-6pm:Boodah Brothers; BigB BigBO757@aol.com
DJ Law Budacrew@aol.com

Have never been overly harsh towards Whitney and have expressed admiration for her in the past.

6pm-10pm: DJ Bee Djbee215@aol.com

This is the heavily hip-hop laden portion of the station's programming but DJ Bee gives Whitney love.
Has played Fine before a few times and consistently gave ILFTB love.


Orlando,FL
WOMX Mix105.1 mix of yesterday and today
www.mix1051.com request line 12-1pm 407-919-1051 modern AC
request lunchtime@mix1051.com, gloria@mix1051.com,
tim@mix1051.com,dana@mix1051.com ILFTB added




Pennsylvania Counties Covering Chemung, Steuben, Tioga, Schuyler, N. Bradford
WLVY 94Rock top40/CHR Request: 607-733 5626
info@wlvy94rock.com 0 one email address for djs- just put any name in the subject line:
use email airstaff@wlvy94rock.com
Brian Stoll 1-6pm,
Mike Stroebel 6am-10am
Dave Michaels 10am-1pm
MLIYL on countdown, added ILFTB

Phoenix, AR
KZZP Top 40
request line 602-260-1047 site www.kzzp.com


Philadelphia
WIOQ (610)667-8100
pop/crossover station
requests@q102philly.com

pstrequests@wpst.com
Or Website www.wpst.com/equests.asp [fill out a short form i.e.name, email address and your request]

B101.1 (WBEB)
Phone Number: (215) 263-B101
Email: Studio@b101radio.com

Q102
QINFO@Q102PHILLY.COM
Tel: 215-263-1021

WUSL (98.9) in Philadelphia, PA- An Urban Contemporary Station
http://power99.amfmi.com/personalities/e_song.html
or
at 215-263-6699 or toll-free worldwide 1-800-669-99FM.

WJBR (99.5) in Wilmington, DE- also heard in Philadelphia, PA- Adult Contemporary Station
(302) 475-WJBR (9527)

WPHI (103.9) in Philadelphia, PA- Urban Contemporary Station
Email: funkwizardsnow@yahoo.com

WDAS (105.3) in Philadelphia, PA- Urban Contemporary Station
(215) 263-1053 Philadelphia
(877) 894-1053 outside of Philadelphia only

WSTW (103.7) in Wilmington, DE- also heard in Philadelphia, PA- Top 40 Station
(302) 478-1010 or 1-800-544-9370
wstw@delaware.com


Pittsburgh, PA
Wish 99.7 soft rock-70's to todays biggest hits www.wshh.com
site: www.wshh.com/airstaff click on any air personality picture
choose from the 'to' field who u want to send a mail to, fill in your first
name, email addy and request

WYXR Star104.5 Mix of 80's,90's, today AC
Http://star1045fm.amfmi.com/ 215-263-1045
all request lunch hour christine taylor 20requests2@star1045fm.com
drive @5 Big RonO'Brien bigron@star1045fm.com
requests@star1045fm.com

B94 Pittsburg, PA top 40 Request(412)333-9494 added MLIYL
www.b94fm.com then click on meet the djs or
email directly: Dave 10-2pm b94apd@b94fm.com
jonny H. 2-7pm b94md@b94fm.com
morning show-bubba,dave,john b94am@b94fm.com
Nevin D.7-12am b94nites@b94fm.com


Portland, ME
WMWX Mixx99.9
request line 1-888-333-mixx site: www.wmwx.com
email themix@wmwx.com Modern AC/pop- added


Richmond, VA
WRVQ Q94.5 #57 BDS
(804) 576-3200 or (888) 876-0957
Top 40/pop station i.e. Madonna, Britney, TLC, Ricky Martin
www.wrvq94.com and click on request link on the index at the left of screen
email q94studio@wrvq94.com
Vote on Hometown countdown every thursday from 3-6pm or;
vote on top 8 at 8 every night before 8pm or;
request song (MLIYL) to be played on 12noon high energy workout (the remix may work for this)


Rochester, NY
98 WPXY-played INRBIO Remix, MLIYL Remix, ILFTB Remix
There is a request page with choices, but CIHTKF is not yet a choice.

scottso@98pxy.com
danger@98pxy.com
terese@98pxy.com
Sandy@98pxy.com
pete@98pxy.com
norm@98pxy.com


WDKX 104- played all MLIYL songs, and SSDC
wakeupclub@wdkx.com


Warm 101.3, AC played WYB that's it.


http://www.warm1013.com/feedback.asp

KISS FM 106.7
randywest@hotmail.com KISS FM 106.7




Sacramento CA
Smooth Jazz
Was the first to play CIHTKF
www.kssj.com

email:
swilliams@kssj.com
kjones@kssj.com

Mix 96
www.kymx.com

Adult Contemporary (is currently playing CIHTKF)
This is a website vote:

Click on Mix 96 Music
Click on Vote For You Favorites
Find Whitney and select play it more

Y92
Adult Top 40 (have yet to play CIHTKF)
www.y92.com

email:
mrivers@chansac.com

The End
www.endonline.com

Top 40 (whatever is popular/they are playing CIHTKF)

email:
morningcrew@endonline.com

These are the majority of stations that get a lot of attention in Sacramento.


Salt Lake City
(#35) KZHT 94.9 801-570-1949
Top 40- added MLIYL

#35 KISN97.1fm
www.kisn971.com/contacts.shtml -email addy for djs
request line 801-570-5476 - Top 40 Station.

San Diego, CA
#16 KHDS 93.3fm top40- added MLIYL
619-570-1933

San Antonio, Tx
KXXM96.1fm #34 market Top40 www.mix961.com
email: deb@mix961.com, rikko@mix961.com, request line 210-470-5961
krash@mix961.com, novak@mix961.com ph:800-373-9700
Added My Love Is Your Love - Request I Learned From The Best

KTFM- crossover www.ktfm.com, Request Line- (210) 470-5836
email djs: Steve Chavez- schavez@ktfm - music director/dj 6-10pm
Joe B. 2-6pm nastyradio@aol.com
Hot Henrietta- 9am-2pm hotness@ktfm
added ILFTB 27/1/00

San Francisco, CA
marcusd@kzqz.com

KZQZ San Francisco Z95.7
(888) 870-0957 email zpromotions@kzqz.com
Top 40 #4 market for BDS

KISQ - (98.1 FM) - (888)3-KISSFM - E-mail KISQ

KMEL (106.1 FM) - (800)955-KMEL; (415)538-1061 kmel@sirius.com

KZQZ (95.7 FM) - (888)876-0957; zpromotions@kzqz.com

KYLD (94.9 FM) - E-mail KYLD Select Music Comments at the top of the form.

Seattle, WV
STAR 101.5
www.star1015.com

Phone #'s
Seattle area: (206) 421-1015
Outside Seattle: (888) 821-1015

E-mail
alisa@fisherradio.com Music feedback
DJ's
kentalan@mindspring.com - Kent and Alan, morning show, 5:30 am - 9:30 am
tomh@fisherradio.com - Tom Hutyler, 9:30 am - 2:00 pm
randyl@fisherradio.com - Randy Lundquist, 2:00 pm - 7:00 pm
jillt@fisherradio.com - Jill Taylor, 7:00 pm - 12:00 am
jims@fisherradio.com - Jim Severn, 12 am - 5:30 am

KUBE 93
www.kube93.com
Seattle area: (206) 421-9393

Seattle, Washington
Warm 106.9 FM
www.warm1069.com
Phone #: 1-800-622-1069
E-mail addresses:
DJ Tom McCarthy - flatagus@aol.com
All other DJ's/general station e-mail - warm1069@aol.com

South Bend, Indiana
WNDV - www.u93.com

Sunny 101.5
www.wsbt.com/fmwelcom.htm

Tampa-St. Petersburg, FL
Pop - 93.3FLZ
Request: 800-409-9393 www.933flz.com
requests@933flz.com jeffthomas@933flz.com
Stan@933flz.com mjandbj@933flz.com hitman@933flz.com
MLIYL #1 song played/added ILFTB

Ft. Wayne, IN
Top 40 WCKZ Z102.3
request line 219-747-8811

Washington, D.C
www.thez.com At the bottom of the site, just click on 'requests'
request line is 1-800-987-2104


93.9 WKYS - Email wkysdc@aol.com#


WPGC 95.5 Washington, D.C - R&B Station.
www.wpgc955.com
donniesimpson@wpgc955.com
Michelle Wright heyyourself@wpgc955.com



Hawaii - Honolulu
KQMQ (808) 296-9393
KIKI (808) 296-9494
104.3 (808) 296-1043

KSSK 93.2fm (#60)
www.pixi.com/kssk/page2/html email : Kiss@pixi.com
added ILFTB-AC


Phillipines
info@rx931.com
large pop radio station

Canada

104.5 CHUMFM
http://www.chumfm.com/HOME/CHUMFMCore.pnm

CHFI 98 FM
http://www.chfi.com/

EZ Rock 97.3 FM
http://www.ezrock.com/index_1.html

Kiss 92 FM
http://www.kiss92.fm/v2/

KISS 92 Request Line 416-870-88-88

Much More Music (TV STATION THAT PLAYS VIDEOS)

Video Request e-mail - muchmoremail@muchmoremusic.com

http://www.muchmoremusic.com/top5/ - Vote for the top 5 videos (Tune in to MMMtop5.com at 6:30pm ET/3:30pm PT Monday to Friday to see if your hot picks make the daily hit list!)

Much Music (TV STATION THAT PLAYS VIDEOS)
http://www.muchmusic.com/index.asp

To request your favourite video send email to: ondemand@muchmusic.com

To dedicate your favourite video send email to: dedications@muchmusic.com

DaMix - Kickin' out soul, dance, rap, and reggae. Variety is da Vibe and da Vibe is Live. Da hippest jam show in the land. Experience the urban wall of sound. damix@muchmusic.com




A Comprehensive List Of All The US Radio Stations

Asia

This is the link for videoplay. This covers Japan/Indionesia/China/Australia
It's in English. Just write in the name of the video and the artists.

Email:
bydemand@channelv.com
The host name is Joey

Europe: Poland

POLSKIE RADIO PR. 3

30 TON

MTV POLSKA

RADIO Zet

RADIO FLASH FM KATOWICE

RADIO PLUS

TVP1


Another site that is helpful is this http://wmbr.mit.edu/stations/formats.html,
go the bottom of the page and pic what type of stations you want to find and then type in
any major city and get a list of radio stations.


This Website Also Has A Request Campaign Running

The Whitneyfan.de Request Campaign - Links to stations in Germany, Austria and Switzerland


Divas Forever --http://www.geocities.com/Hollywood/Highrise/1320/DivasForever.html
World Charts/Fav Single -- http://www.worldcharts.com/sindex.html
World Charts/Fav Album -- http://www.worldcharts.com/aindex.html
Interactive Movie Poll/Albums -- http://members.aol.com/hemog0blin/vote.htm