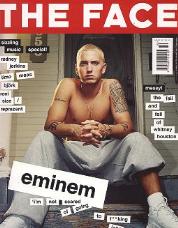 THE FACE Cover Comment: The Fall & Fall Of Whitney Houston
Article: The Ballad Of Whitney Houston
October 2000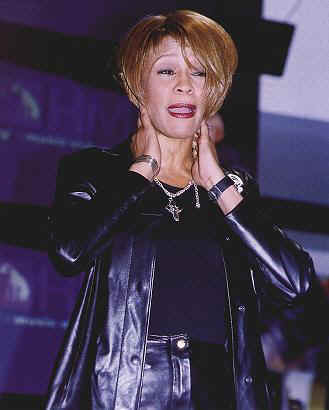 Over 100 million albums sales, hit films and a perky, peachy-clean global appeal….Didn't she almost have it all. But now, it seems, she's lost it. Houston: she most definitely has a problem.
Sometimes news isn't convincing even when you've seen it on the telly. Like when celebrities get killed: you see the mangled Mercedes, or the bloodstained flip-flop, or the wreckage from the light aircraft. But you think they're not dead; it's just a tabloid invention, or a publicity stunt. That this is their way of shedding their celebrity skin, of ripping it up and starting again. That really the allegedly dead Famous Persons are all sat round in some velvet-lined VIP bunker knocking back Krug, admiring the Louis XIV furniture, and contemplating their new life free from the burden of their vast personal wealth and expansive designer wardrobes. Because this is how you'd always imagined them anyway.
This is how it feels as the stories about Whitney Houston become more widely reported. There has to be some plausible explanation for the career and personal meltdown that the drugs rumours and bungled live performances of the last year play testimony to. Cancelling shows, fluffing songs, 'acting really strange' in a now-notorious interview and photo shoot with an American women's magazine, being caught at an airport in possession of marijuana, becoming enveloped in an astonishing whirl of American tabloid reports: it seems too surreal to believe that the late-20th century icon Whitney Houston could experience - for one so graceful - a fall so graceless.
After all, 37-year-old Whitney was born into black music royalty. Her mum Cissy was a backing singer for everyone from Dusty Springfield to Elvis; Aretha Franklin is her godmother; Dionne Warwick is her cousin. Her own career has been a study in the flawless creation of a massive, multitalented, globally renowned macro-celebrity.
But as insult (the US tabloids seem to have taken Whitney's predilection of drugs as a given) is added to injury (one of the latest rumours - albeit one printed in the National Enquirer - is that she and husband Bobby Brown are under investigation by New Jersey Child Welfare Services after neighbours expressed concern about the couple's ability to care for their daughter, Bobbi Kristina), Whitney's repeated public misdemeanours do little to contradict the notion that this is ludicrous celebrity scandal made true.
Whitney Elizabeth Houston has had a nice life. Born in New York to a gospel-singing mum and John, a part-time labourer and music manager, Whitney's rise to fame seemed slick, elegant and predestined. Aunt Aretha and Cousin Dionne spotted her talent early. By 11, she was singing solos at the New Hope Baptist Church in Newark, New Jersey. Aged 17, she was modelling and gracing the covers of Glamour and Seventeen. Not for her a job in Burger King or glass-collecting at Danceteria. Having sung studio back-up for Chaka Khan and Lou Rawls in her late teens, she was signed to Arista in 1983 and put under the watchful eye of company boss Clive Davis, a man with a new agenda for selling records.
It was the mid-Eighties. While the charts were abuzz with 'edgy' pop acts like Cyndi Lauper and Boy George, Davis saw the chance to bring some or mainstream America's obsession with youth, glamour and iconography into black music. Bratpack movies such as The Breakfast Club were playing in cinemas, Fame was on the telly, and a new pedigree of models were on the catwalk. Renowned hitmaker Davis set about fashioning a star who could bring those values of peachy beauty and hard-edged aspiration to singing.
Whitney's success was instant. She has the voice, the looks and the image of airbrushed perfection. 'I'd like to thank God and my parents. I feel just like Cinderella,' she told reporters in 1986. The public lapped it up. Her 1985 debut album Whitney Houston and its 1987 follow-up Whitney spawned a record-breaking seven consecutive Number Ones. Nineteen-ninety's raunchier, dance-orientated I'm Your Baby Tonight sold eight million copies. The power ballad formula Whitney virtually patented (massive voice rips into wistful lyrics) sealed the success of her debut movie The Bodyguard (the 1992 album is the best-selling soundtrack of all time) and gave her 'I Will Always Love You,' one of the biggest-selling singles ever.
And she kept on keeping on. In 1998, her market packed with pale imitators, she chose the perfect time to put the ballads on hold and to investigate the fresh sound of America's booming R&B rebirth. 'Without doubt, Whitney Houston is the voice of her generation,' says Trevor Nelson. 'But she'd never been considered particularly edgy. Suddenly here she was with a single ['It's Not Right But It's Okay'] that had her "stand out". For the first time, I was playing her in clubs and on Radio 1.'
'It's Not Right But It's Okay' was spiky and stylish, and the video showed a Whitney who was all sass and deconstructed Thierry Mugler. For a while there had been rumblings about her marriage, and at this stage she seemed to be taking the bold step of singing lyrics that could be perceived as 'pertinent' (admittedly singing lyrics written by someone else). All might not have been well in Whitney's world, but her music came out fighting. That year's album, My Love Is Your Love, took R&B into the wine bar with its world-weary lyrics and performer's pedigree, giving (with a huge debt to Lauryn Hill, admittedly) easy hip hop beats worldwide recognition in the process.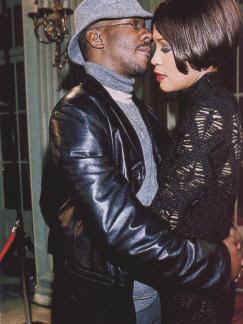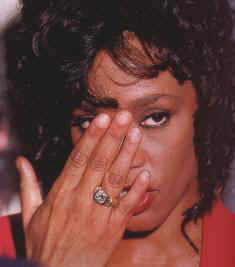 Suddenly everyone loved R&B and everyone loved Whitney. The crack production team she'd hired to work on My Love Is Your Love (Rodney Jerkins and his 21-year-old protégéé Toni Estes) gave her the credibility she'd lacked in the Eighties and Nineties. Soon Wyclef Jean and Missy Elliott were clamouring to write tracks for her, with Missy notching up two ('In My Business' and 'Oh Yes') and Wyclef providing her with a hugely successful single, the album's title track.
For a while it seemed like Whitney was mutating into Puff Mummy.
'Everyone borrows from everyone else in this business,' defends 'It's Not Right But It's Okay' co-writer Estes from her Oklahoma home. 'What people don't realise about her decision to go out on a limb and do that album was that it blew things wide open - it inspired younger artists, people like me.'
Talking to Estes, you could be forgiven for thinking that without R&B Whitney, there would be no Aaliyah, no Craig David, no Kelis. If not Puff Mummy, then, R&B Whitney can at least be credited with being a mother to Destiny's Children.
The last couple of years have also been bad to Whitney Houston. If the 110 million album sales that My Love Is You Love contributed to - not to mention the Grammy she won for her vocal performance on 'It's Not Right But It's Okay' - took her to an all time high, she must also have experienced a pretty harsh comedown. During 1999, the rumours that had dogged Houston throughout her career became louder and more threatening. For years, she has had to endure unsubstantiated allegations of a lesbian relationship with her business partner Robyn Crawford, the 'closer than sisters' friend she'd made as a teenager at summer camp (Crawford left Whitney's management company earlier this year). Then there's trouble-magnet hubby Bobby. He has been convicted of drink driving (he was three times over the limit when he crashed Whitney's Porsche) and went to prison in May after being caught using cocaine while on parole. In 1997, police investigated reports that he slapped her during a row in a Honolulu car park. More categorically, in the mid-nineties she successfully sued a tabloid which had alleged that she was addicted to a slimming drug.
But none of the mud-slinging could compare with the real-time Whitney gossip that was circulating. One the 1999 tour of America she embarked upon to promote both My Love Is Your Love and her then-forthcoming Greatest Hits, she gained a reputation for rash, last-minute cancellations. Pulling out of five of 24 scheduled dates - some as little as 15 minutes beforehand - Houston told out-of-pocket organisers she'd developed 'sudden laryngitis' or that the East Coast air had caused her 'bronchioles to shut down'. But the damage she was doing to her fanbase or the concert promoters she'd started to annoy was small fry compared to the damning news that on January 11 this year, Whitney had been caught with 15.2 grams (about half an ounce) of cannabis in her hand luggage as she tried to leave Kona Keahole International Airport in Hawaii. Rather conveniently, she managed to dump the offending weed and board her flight anyway, customs men appearing curiously pliant. 'Our job is to keep weapons off the plane, not hassle people about a little bit of pot,' said a security officer at the airport.
No matter: the damage was done. Immediately, the stories the gossip rags had spent the last eight years peddling resurfaced. Their line was simple: If Whitney Houston smokes pot, isn't it possible that she's been behaving badly in a whole host of delicious other ways?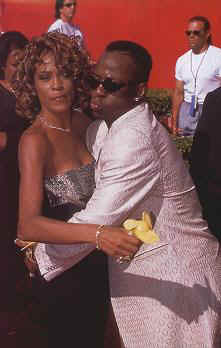 This year's 72nd Academy Awards offered Whitney a chance to redeem herself. Burt Bacharach, a family friend since he discovered and signed Dionne Warwick, had been appointed musical director for the Oscars ceremony on March 26. He asked Houston to sing. Here was the chance she needed to endear herself to the American public the way she had when she sang 'The Star Spangled Banner' at the Superbowl during the Gulf War in January 1991. Following a high-profile no-show on March 6 at the Rock And Roll Hall Of Fame induction ceremony in New York - at which she was to serenade her mentor Clive Davis, one of the event's honorees - the pressure proved too much. Scheduled to perform in a medley alongside Garth Brooks, Ray Charles, Isaac Hayes, Queen Latifah and Dionne Warwick, Whitney turned up to the Oscars rehearsal 48 hours before the ceremony and fluffed the lyrics to 'Over The Rainbow'. Or, as one eye-witness put it: 'She just kind of moved her lips a bit.' Said another: 'She missed her cue entirely.' At the eleventh hour, Bacharach had no option but to remove her from the musical line-up and replace her with Faith Hill. While the official line from Oscars organisers was that 'her throat was in trouble', Bacharach's own comment, reported in People magazine, was: 'Whitney's chronic condition is very sad.'
The following month, more trouble. The performance she'd given during a magazine interview in February came back to haunt her. For the first time, a respectable, mainstream publication - the New York-based young women's magazine Jane - went on the record with the assertion that Houston had a problem. The picture painted by journalist Tony Romando is not only of someone controlling, petulant and narrow-minded, but of someone unreliable (Houston changed the venue of the interview three times), techy ('People pick on me but they don't know me. You could analyse me all fucking day and I'm the same person. What do I care?'), and barely lucid (at one point in the interview she compares a president to a junkie).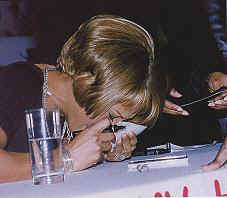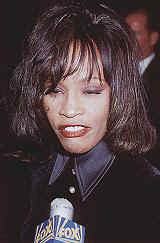 But the most crushing insight came from Jane editor-in-chief Jane Pratt who described Houston's behaviour during the preceding photo shoot: 'She was acting really strange. She was singing to herself. Then she would pretend to play the piano, like an air piano. Her eyes were heavy-lidded.' [Whitney blamed her tardiness on a trip to the dentist to fix a cracked tooth.] 'But Novacaine doesn't make you act that way.'
Few of Whitney's associates that THE FACE spoke to were willing to be quoted on the record, nor would any of them comment on the circulating drug rumours. Trevor Nelson said: 'I grew to like her when we met during her last promotional tour, but I know she has problems and you get the impression that all is not well and happy…Now without Clive Davis around to guide her [Davis was replaced as CEO of Arista earlier this year], some of the people at the record company must be a little nervous.'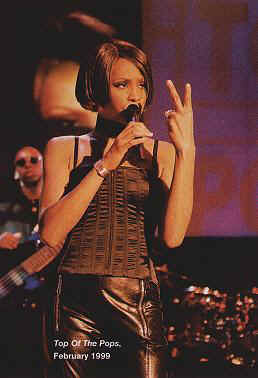 Is this chain of events the classic 'cry for help'? Or is the explanation more mundane: that Whitney has been behaving badly for years, but that her antics were easier to hide while she was making movies (as she was for a prolonged period before My Love Is Your Love's release) than they were while touring or promoting records? Indeed, a close reading of the last 12 months of Houston's life suggests that the crisis point came not at the time of the Oscars but towards the end of her tour eight months before. According to US weekly's version of events, by late July 1999 Whitney's disputes with Bobby Brown were becoming more public and, concerned by the damage she was doing her career with her repeated no-shows, Clive Davis put pressure on Whitney's close family to intervene. The magazine described the scene they said her mother found in a suite of The Beverly Hills Hotel the night of her gig at LA's Universal Amphitheater. The couple had been arguing into the small hours, they'd trashed their room (broken beer bottles were strewn about), but the fight had moved to the hotel lobby. Downstairs, Whitney was trying to distance herself from Brown while he dealt with hotel security. The evening ended with Brown being hospitalised.
The fact that the US press have been able to be so open about her alleged problems, and that her public and personal lives seem to be sliding into one, would appear to be a result of Whitney's year(s) of living dangerously. This, at least, is more likely a thesis that her being dealt a single unhappy blow which contributed to a tragic downward spiral and which had driven her to drugs. She is not the 'Disco Elvis', the 'New Michael Jackson', or however else a bit of good storytelling might recast her. She's Whitney Houston: a bit of badass, by all accounts. Not some poor ingenue corrupted by celebrity bad boy Bobby Brown either.

As Teddy Riley, who has worked with Brown, said: 'Bobby and I were both born in the 'hood and have a bit of craziness. When I first met Whitney I could see she has a little craziness in her too'.