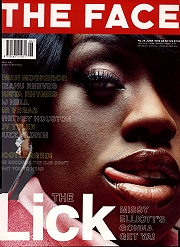 REINVENTING THE WAIL
WHITNEY HOUSTON, THE FACE MAGAZINE, JUNE 1999
Leather dresses. Stark R&B beats. Attitude. Everybody love everything about New Whitney. But then there was always more to the diva than fluffy ballads, argues Peter Lyle.
The most memorable moment at this year's super-slick and otherwise eminently forgettable Brit Awards was not strictly part of the ceremony. It came when one gushing young TV presenter was doing the usual post-event rounds, reeling off predictable questions at any worn-out celeb she could ensnare. "How did it feel to meet one of Abba?", "Did you ever imagine you'd be in the same building as Robbie?", "Just how excited are you to be in London's hallowed Docklands?". While bouncing between pop stars, she bumped into Whitney Houston, who doesn't turn up just anywhere, whose presence as a Big American Star proved that Britain was Pop Music Central once more. Backed by a battalion of leather-wrapped dancers, she had belted out her slinky, stroppy new single 'It's Not Right But It's Okay' - a record which, three months later, was still haunting the UK top 40 and about to be displaced by an equally anthemic follow-up, 'My Love Is Your Love'. Then she won nothing, providing yet more evidence of what fantastic shape British pop was in.
"So Whitney," the presenter enthused, "how did it feel to perform at the Brits?" Whitney looked down with those sleepy eyes, smiled weakly, muttered, "It was cool," and moved on.
It wasn't strictly a put-down, but it was a response that said, I've had better parties in my swimming pool. I've won a million more important awards. Your little show was cool, but I'm cooler in every possible way. I'm so cool that I really don't care if you know it or not.
Whitney, you see, has never ever questioned her own coolness. Some of the rest of us have always stuck up for it too, but the things she got up to didn't always make it easy. Now, in the wake of the strange, spontaneous success of 'It's Not Right But It's Okay', we can go public.
For Whitney Houston, 35-year-old mother, mistress of big, mawkish ballads and airbrushed Eighties icon is now running things on the proverbial street.
"I don't want to say she lost it," says David Bry, Senior Associate Editor of American black music magazine Vibe, "but people were considering her in the Celine Dion arena. Almost Barbra Streisand. Music for your grandma. Now people see her as a very credible woman."
Why, though? And how did Whitney come to stand for everything that was wrong and insincere about corporate Eighties pop music, anyway? She was the girl who grew up hanging round at now-legendary Aretha Franklin recording sessions, whose mum had sung backing vocals for everyone from Aretha to Elvis, and whose cousin was Dionne Warwick. She was a beautiful, 5ft 8in former model with endless legs and an even more extensive vocal range. For her first album, her record label coupled first-choice songs with the biggest-name producers to guarantee global superstardom. Everything was eerily professional.
'Whitney Houston', the 1985 debut, and 'Whitney', the 1987 follow-up, duly did the business. She racked up a Beatles - and Bee Gees - busting seven consecutive number ones. The trade-off was the fracturing of her relationship with her black American audience. Because of the structure of the charts and radio networks in the States, it was always going to be almost impossible to sustain an equal standing with both 'pop' (i.e. mainly white) and 'urban' (i.e. mainly black) listeners. To get on the rigorously policed playlist of mainstream radio was effectively to exclude herself from niche urban stations. The fact that Whitney never apologised for scaling the heights of pop did little to bridge the gulf. Her sex-free, silkily -produced songs of perfect love existed in the cultural vacuum of mass-market pop convention. She was simply, shamelessly, a superstar.
Then came Mariah Carey, who crashed into the US top 20 in 1990 using many of the same producers and backed by a similarly merciless marketing campaign. Soon after, there was Celine Dion who has in turn managed to make Mariah's performance look understated. Celine opened the floodgates: now we have 14-year-old country singers expressing eternal love over great oceans of ghastly strings. Whitney no longer stands for everything fake and emotionally manipulative in contemporary entertainment, simply because there are a dozen other starlets out there doing it better. Anyone who feels he need to rail against anodyne American pop should realise there are far more deserving artists than Whitney to pick on.
Meanwhile, Whitney's been more reserved. Not only have her ballads become less histrionic, her releases have been much more sporadic, while she's managed to make a decent fist of movie roles in the likes of The Bodyguard and Waiting To Exhale. These days, Whitney is staying out of our faces - so much so, in fact, that her new work is being embraced like an old long-lost friend.
Such is her standing now that Missy and Wyclef have helped out on 'My Love Is Your Love'. But this isn't an attempt radical reinvention. She tried the makeover approach before, in 1990, when she released 'I'm Your Baby Tonight', on which LA & Babyface provided an equivalently urban edge. And nobody fell for it. You can't buy credibility so brazenly unless people quietly realise they've been waiting for an excuse to like you again. What we're finally hearing now is the collision of Whitney's personality - hugely confident, less-than-wholesome - with her pop songs. We're hearing love songs about deceit, disappointment and world-weariness that have nothing to do with 'My Heart Will Go On', 'Hero', or 'How Do I Live'. 'It's Not Right But It's Okay' was all the nudging people needed to remember that, however sentimental and simplistic her songs, Whitney was never a boring woman.
A brief recap of Whitney's amorous antics over the years makes that clear. Early in her career, Houston was romantically pursued by Eddie Murphy and Robert DeNiro. Yet, despite all that swarming testosterone, it was widely rumoured that her relationship with a long-term female friend and personal assistant was far more intimate than either let on. So persistent was this allegation that, when Whitney married off-the-rails teen star Bobby Brown, some assumed that Whitney was faking happy heterosexuality, more interested in a career leg-up than a leg-over. Yet, following the birth of their child, rumours of severe relationship problems, and sightings of Brown checking out other women and checking in to drying-out clinics, they split up and then got together again. Such resilience suggested that theirs was not a suspect, Lisa-Marie-and-Jacko-style celebrity matrimony. Furthermore, it was emphatically, publicly messy.
Throughout it all, Whitney has endured. In fact, she has never acted like anything other than the biggest pop star in the world. But we are now aware of enough faults and strains to make her stardom palatable. We know that, though she may be blessed with perfect limbs and powerhouse lungs, a vast pad and an Olympic-sized pool, she's been through it. We also know that she's not the youngest, most marketable commodity on the pop block anymore. What;s the point of getting indignant about superstar Whitney Houston's reported feud with superstar Mariah Carey as they duetted on 'When You Believe' when Brandy and Monica have already indulged in a far more public rivalry?
Then there's the soothing effect of time. The night she infuriated right-on thinkers everywhere by taking the stage at 1988's Nelson Mandela tribute concert and insisting that it was "just a birthday" - thus undermining the purpose of the event, but ensuring her continued good standing with right-wing middle America - is distant memory. (Following the Mandela concert, Nelson himself said from prison that Whitney's performance had been his favourite part of the show.) And now a tune about coming out of a troubled relationship intact is still echoing around a hundred British cities in a million different mixes.
At this year's Brits, Natalie Imbruglia scooped two awards that could have gone to Whitney. But Whitney was built to last.
Those of us who still mope around the kitchen to the polished, perfect pop of 'Didn't We Almost Have It All' are still smiling. We know what counts in the long run.