MARGHERITA TAYLOR - THE O-ZONE 1996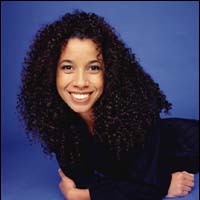 Margherita Taylor is one of Britain's leading up-and-coming television Presenters. She's also one of London's leading DJ's working for Capital Radio. I e-mailed her in June to ask her about her meeting with Whitney in December 1996 when she conducted the first UK TV Interview with Whitney in over five years, knowing she too is a big Whitney fan. Here's What Margherita had to say...
Manish, long time no reply but here we are. You e-mailed me back in June about my meeting with Whitney Houston.
I was sent by the BBC's entertainment and music show the O-Zone to interview Whitney in New York. I have to say it was one on the best jobs I've every been given. I've been a fan of Whitney's music since I was at school. The first album she ever made was the first album in my collection. If I need a song to bring me up or chill out to she's already made it. So as you can imagine meeting her was a big deal.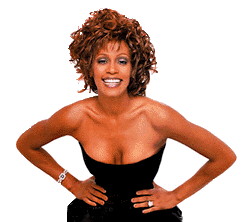 The day I met her she was promoting the soundtrack to the movie the "Preacher's Wife". She was being interviewed by many newspaper journos but just five international film crews, I was the British representative.
Manish, I have to say she was one the most charming and professional people I have met. At the time she was expecting her second child (which she has since sadly lost) she was over the moon that little Bobbi was going to have a sibling. She was very in love with Husband Bobby and very happy.
I hope this helps, it's nice to share it with another Whitney fan. I can't wait until she tours England again.
Much love Margherita xxx.
Thank you very much Margherita for taking the time to mail me. It's an honour.
Manish.