Swizz Excited...
MTV: Swizz Beatz 'So Excited' To Work With Whitney Houston, Alicia Keys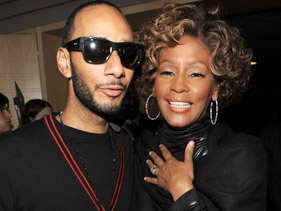 'I was super happy,' Beatz says of the reaction his 'Million Dollar Bill' got at Houston's recent listening party.
By Shaheem Reid
NEW YORK — Swizz Beatz's music is about to hit hard again with tracks on upcoming albums by Jay-Z, DMX, Eve and, of course, Whitney Houston. Swizz was at Lincoln Center on Tuesday (July 21) as one of the attendees at the listening party for Houston's upcoming I Look to You. Swizz and Alicia Keys crafted a track for the project called "Million Dollar Bill," which is just screaming to be a first single.

Swizz started the process on the song four months ago when he got a call from Clive Davis and record executive Larry Jackson. They told Swizzy, "We're working with Whitney. Let's see what you have. We know you have something under your sleeve."

"I went to the office and vibed with Larry," Swizz explained. "I was like, 'She really sounds good. She's on her A-game.'

"At the time I was working on some stuff with Alicia," Swizz added. "I was like, 'We need to bring Whitney back. We need to do some stuff to support Whitney.' Then Alicia was like, 'I love Whitney, she's an icon. I would love to be a part of that.' I started vibing on different things. I didn't want to come with anything that would make her sound too old or too young. That's when I got the vibe to do something that had, like, a disco feel, but still with the hard drums on it — still musical but moving. I wanted to do something that was instant when it came on. Then I played the idea for Alicia to make sure I wasn't bugging out. 'Am I going too far with this?' She was like, 'Nah. That can be a big smash.' "

Swizz and Alicia then sat down and came up with lyrics.

"Million Dollar Bill" is all about the feelings new love can bring. And although the duo felt they had a strong single for the album, Houston and Davis had been choosy when it came to picking the songs for the album that has been over three years in the making. But Houston loved the tune.

"She was so excited Alicia wanted to be involved in her project," Swizz said. "More sisterly love-type of vibe. Like, 'Wow, one of my sisters that I respect in music is reaching out and helping when she could be doing a lot of other things in this world.' "

Keys and Beatz got Tony Maserati to mix the record, but were tweaking right up until the night of the listening party. Davis wanted the drums to be a little harder on the finished version, so Swizz had Maserati take the modulation off the song and turn the drums all the way up.

"I want this to be one of the biggest records of her comebacks," Swizz noted. "I want her to be onstage at the Grammys talking about this record."

At the listening party, the crowd cheered when the track came on.

"To get a standing ovation for a song we put so much work into was like, 'Wow,' " Beatz recalled. "That's why Alicia was taping [the listening party] — we're capturing the moments. We was like, 'We can't miss this, this is history.' I was super happy."


Whitney 'Truly Humbled'...
MTV: Whitney Houston 'Truly Humbled' By Listening-Party Turnout'
You've overwhelmed me. I hope you love it,' Houston said to the celebrity crowd gathered to hear the first tracks off of I Look to You.
By Shaheem Reid Jul 22 2009 4:13 PM EDT
Whitney Houston looked great and sounded even better Tuesday night in New York at her listening party for I Look to You. Houston waited until all nine new tracks were previewed at the event before she came out and addressed the people.

The Grammy-winner walked onstage and danced as her cover of "I Sing For You" played. She also went into the crowd and gave hugs and kisses to some family and friends. After the song, Houston took the mic.

"Thank you all for coming," she said, dressed in a black dress. "I'm truly humbled by this experience. I had other plans about three years ago to live on this little island and open a fruit stand."

Houston's long time mentor and label boss, Clive Davis, called her and had other plans around that time — he wanted her to sing again. Houston's mom Sissy echoed that sentiment, telling Whitney she was "tired of hearing what's on the radio" and "tired of people taking off their clothes."

The album took three and half years to record and still isn't quite finished. Alicia Keys, Swizz Beatz, Akon, R. Kelly, Danja, Harvey Mason Jr., Tricky Stewart and Stargate are all confirmed as collaborators.

"I sang from my heart, my soul, my spiritual awareness. This is from me to all of you," she said to the crowd.

"You've overwhelmed me. I hope you love it."

Martha Stewart, Andre Harrell, Island/ Def Jam chairman L.A. Reid, journalist Diane Sawyer, Dionne Warwick, über-manager Benny Medina, R&B legend Freddie Jackson, comedian Steve Harvey and actress Vivica A. Fox were all in attendance in the Allen Room of Lincoln center.

The first ballad played was a song called "Didn't Know My Own Strength." It was written by Dianne Warren and produced by David Foster. "I thought I'd never make it through/ I had no hope to hold onto," Houston sings. "I didn't know my own strength/ And I crashed down/ I did not crumble/ I got through all the pain....I picked myself back up."

The title track is another powerful, uplifting song, penned by R. Kelly. In it, Houston sings, "As I lay me down/ Heaven hear me now ... After all I've been through/ who on earth can I look to?"

Kelly also wrote and produced "Salute," which deals with a breakup. "Call You Tonight," another song about love, was co-written by Johntá Austin and Stargate.

I Look to You is slated for a September 1 release.


Whitney: "I just want to be recognized for my music"...
Associated Press: Whitney Houston previews her new CD
Whitney Houston says her daughter's support helped fuel her as she geared up for her comeback record.

"She was with me every step of the way: `Mom, you can do this.' When I get discouraged and I get like, `This is tiring, this is wearing me out, I'm just not at that point,' she'd just go, `No, mom, you can do this, get up, get up,'" Houston said of 15-year-old Bobbi Kristina in an interview on Tuesday. "She encourages me and inspires me, when I look at her and I look at her eyes and I see myself, I go, `OK, I can do this. I can do this.'"

The 44-year-old superstar is releasing "I Look to You" on Sept. 1. It's her first album in years on Arista Records. On Tuesday evening, she premiered several tracks before an industry audience that included her only child, mother Cissy Houston, cousin Dionne Warwick, Alicia Keys and Diane Sawyer.

Houston is one of the world's best-selling artists of all time, but her career stalled for years and her pop princess image imploded as she battled drugs and endured a troubled (and now defunct) marriage to Bobby Brown.

The singer did not allude to those problems as the reason for her layoff in her interview. Instead, she said she was more interested in raising her daughter than making another album.

"I kind of got comfortable with being left alone, just being a mom who would take her daughter off to school, and who would pick her up from school. I liked that vibe, I liked that feeling, because I never really had the opportunity," said Houston. "I was always traveling with her all the time."

She credits her mentor, music mogul Clive Davis, who worked with her on the album, with pushing her to come back to the recording studio.

"He called me one day and he said, `It's time.' And I said, `Time for what?' And he says, `Time for you to come back and sing for us again,'" she said. "It's very special and I feel humbled to be asked to do it again and want to be heard."

Davis previewed nine tracks at the event, including one song co-written by Alicia Keys and two by R. Kelly. David Foster, Diane Warren and Akon are also on the disc as writers and collaborators.

While Houston is relishing her return to the music, she says she's not quite ready to be back in the spotlight again.

"I am not geared for it. It goes along with the territory. I'm still going to remain the very quiet, private person I've been for the last 10 years," she said. "I just want to be recognized for my music and for what it does and how it inspires people and how it makes people feel as opposed to talking about Whitney all the time kind of thing. That's all done, it's passed and I would just like to be recognized for my music."

New York, New CD...
People: Whitney Houston Previews New Album
By Joey Bartolomeo
Originally posted Wednesday July 22, 2009 12:25 PM EDT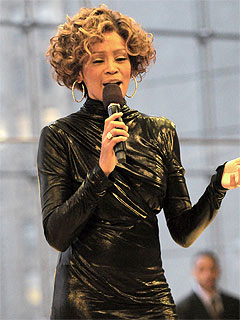 Whitney Houston's much-anticipated new album, I Look to You, doesn't hit stores until Sept. 1, but the singer gave a star-studded audience a sneak preview of nine songs on Tuesday night.

Diane Sawyer, Martha Stewart, Alicia Keys, Vivica A. Fox, and Oprah Winfrey's best friend Gayle King sat front and center at the listening party Tuesday night, hosted by Houston's longtime producer Clive Davis in New York City.

"It took us three-and-a-half years to reach this point," an energetic Houston told the crowd, which also included her daughter, Bobbi Kristina, 16, mother Cissy, and cousin Dionne Warwick. When she spotted King, she told her, "Please tell Oprah I said hello."

Among Houston's new tunes are "Million Dollar Bill," written by Keys and Swizz Beats, which Davis described as "a feel-good song." (Keys stood up, danced, and recorded the scene while the song was playing.)

Davis also previewed two ballads reminiscent of Houston's classic hits, one written by songwriting legend Diane Warren ("I Didn't Know My Own Strength") and one by R. Kelly, who also penned the beat-heavy "Salute."

Houston also collaborated with Akon for "Like I Never Left," which Davis said was the result of her request for "a great island song." Afterward Davis said of Houston – whose last album was released in 2002 – "You realize how much we miss her."

And that was obvious during the final track, a cover of the 1970's classic, "A Song For You," which Davis revealed had only been "completed rough last night." Sawyer led the audience to their feet, and the dancing lasted as Houston took the stage.

In her brief remarks, Houston said her mother had told her, " 'I'm tired of the old songs on the radio. I'm tired of people taking off their clothes … I want to hear a beautiful lyric and a beautiful melody.' And I just hope that what you heard tonight, that's what you got."

Whitney Houston is Back!...
Extra TV: Whitney Houston is Back!
Posted by ExtraTV Staff on July 22, 2009 9:31 AM

The wait is over! After a seven-year hiatus, Whitney Houston unleashed her new album for an all-star audience in New York City on Tuesday.
The songstress sat down with "Extra" and confessed that making music after a long break was a little uncomfortable at first. "When I first stepped into the studio, it felt a little funny. Like, 'I remember this. I know how to do this.' It felt good. I felt blessed," she recalled.

Music mogul Clive Davis got the ball rolling for Houston's comeback. Whitney says Davis told her, "Everybody's waiting. Everybody wants to hear you sing again." Whitney gave in and tells "Extra," "I had other plans." She admits when Davis said they were going to record an album, she wanted to go to an island and she'd be content selling strawberries at a fruit stand.

Instead, the 45-year-old chart-topper recorded the very personal album, I Look to You.

I Look to You hits stores Sept. 1

Inside Whitney's CD...
New York Post PopWrap: Inside Whitney Houston's Comeback CD
Face it, the world has made tons of far-our promises -- flying cars, robot maids, food pills -- only to deliver in the crappiest way possible. However, fresh from its hazy, lazy hibernation of lies, the future is finally ready to deliver on one promise: the guaranteed diva resurgence that comes in the form of 11 new full-of-fierce Whitney Houston tracks.
Last night, PopWrap was invited to a special listening event, where a stunning Whitney previewed nine tracks from her upcoming comeback album, "I Look To You." The 200-person crowd consisted of Alicia Keys, Benny Medina, Gayle King, L.A. Reid, Martha Stewart, Steve Harvey, Vivica A. Fox, Diane Sawyer, and of course her mentor Clive Davis.
Right out of the gate, we heard "Million Dollar Bill," which displayed Houston's billion-dollar voice over a convertible-top-down Swizz Beats track. Blending a rough-riding thump with classic R&B elements, we knew in that instant: She. Was. Back.
The song's writer/producer Alicia Keys showed her true down-to-earth colors as she got up and danced -- while taking videos with her flipcam -- as the words she wrote inked history in the books of pop. If Clive has any sense, this energetic entry will be her first single.

"If he makes you feel like a million-dollar bill, say, 'Oh, oh/ Oh, oh,' " she quips on the hook. "It's been a long time since love has come my way. I've been looking and searching for a man to touch this place." Oh man, my skin is still recovering from too many goose-bumps.

Whitney's whole album sounds just like its debut track. Remarkable.

As the listening party kicked into full swing, other hits bumped through the speakers, like a re-make of the classic "A Song For You," a brass drum island single "Like I Never Left," produced by and featuring Akon and a girl-power anthem "Salute" by R. Kelly. But there are plenty of ballads to be found, like the title track "I Look To You," -- also penned by R.Kelly -- which turned the crowd of stiff, snobby execs into a pool of sappy, vulnerable children.

So prepare, my friends, for the return of Whitney Houston that we were all promised so long ago, because it is coming. Baton down the hatches, pack that last box of tissue and call your favorite people to let them know your location because for the first two hours of September 1, you'll be in your apartment getting your groove back.


Good Looks & Music...
Dose.ca: We Look to NYC for Whitney Houston's Album Party; Yes, She's Looking Good. Same Goes For the Music
Leah Collins
Published: Wednesday, July 22, 2009
"You could feel she was in the room before you saw her, and you knew she was gone even if you hadn't seen her leave": That's what David Foster -- the producer behind hits such as "I Have Nothing" once said of Whitney Houston.

Having been in the same room as her, I can't say that my senses are as preternaturally tuned as those of the Canadian superproducer. Still, as proven Tuesday night at an industry event in New York City (where we were guests of Sony Music), Houston is fully capable of raising an audience to their feet -- without even saying, never mind singing, a word.

Houston made an appearance at New York's Allen Room Tuesday night, breaking what's been a long absence to preview nine as-yet-unfinished tracks from her new album, I Look To You.

The record's on track for a September 1 release. It's her first since 2002's Just Whitney -- and if the seven-year delay wasn't enough reason to begin labelling this one a comeback, you just have to consider her woes over the past few years: multiple trips to rehab, cancelled performances, Being Bobby Brown.

The audience -- which included celebrity friends (such as Martha Stewart, Alicia Keys, Gayle King) and family (mother Cissy Houston, cousin Dionne Warwick) -- were there for the new music. But the main event was Houston herself -- even if she wouldn't be performing, just using that capital-v Voice of hers to deliver a few on-message soundbites about her return ("I had plans three years ago to live on an island and open a fruit stand. ... But then I got a call from Clive [Davis] and he said, 'No. That's not what you're going to do'") and a flurry of effusive "thank-yous."

As you may have heard after her last public appearance (at a similar industry event held in London, England on June 14) Houston's successfully banished the Skeletor image that went along with her troubled recent years. Never mind the fact we got the photographic evidence last week; Tuesday's event treated an eyeful of a healthy-looking, on-her-game Houston as the main event.

You want old-fashioned spectacle? How about having a curtain raised to reveal her bounding onstage (the curtain also happened to reveal a floor-to-ceiling view of Central Park, in case Whitney alone wasn't enough of a theatrical flair). Yes, she looks fit and fashionable (appearing on stage in a high-necked liquid-vinyl dress and killer silver and black laquered heels) -- and if her constant pacing of the stage was any indication, she's likely a bit nervous about re-entering the glaring spotlight, too.

She was smiling her brightest when greeting friends and family from the stage; teenage daughter Bobbi Kristina walked up to the stage to give her mom a peck on the cheek.

Curiously, it was Diane Sawyer whom Houston made a beeline for first, leaning into the front row to embrace her. Apparently that would be a very public cue that there's no hard feelings about that November 2002 "crack is wack" interview. Or maybe she's just as eager as you might expect to alert the media she's back in the game. If anything, she has the right connections. As Houston joked, leaning towards guest Gayle King, O Magazine editor-at-large and the queen of TV's long-time bestie, "Gayle, it's so good to see you. Please tell Oprah I say hello."

But lest we forget Houston has moved more than 140 million records off her many hits, the "listening event" was ostensibly all about the music. Clive Davis, Sony Music's chief creative officer and the album's producer, introduced each of the songs. It's a varied collection, offering entry points for whatever incarnation of Houston you prefer. There are a potential nu-disco anthems ("Million Dollar Bill"), R&B slow jams ("Call You Tonight," "Worth It"), and, yes, a few of those stand-your-hair-on-end ballads ("I Didn't Know My Own Strength," "I Look to You") that'll give American Idol wannabes fodder for years to come.

The lyrics hardly read like an episode of Behind the Music, but the comeback sentiment is fittingly trotted out time and time again. Titles such as "Like I Never Left" and "I Didn't Know My Own Strength" speak for themselves (the latter features the chorus: "I crashed out and I tumbled/ but I did not crumble"). Despite the recurring theme, the R. Kelly written "Salute" -- which paints Houston as a "soldier girl" who "took a fall" only to "make it through" -- will have none of the C-word. "Don't call it a comeback/I've been here for years," she spits out on one of the verses.

The Alicia Keys-written, Swizz Beatz-produced "Million Dollar Bill" -- which past reports have tipped as the album's lead single -- started the listening session on a hard-to-top high, though. Opening with Houston's inimitable vocals oh-oh-oh-ing over a delicious disco beat, it's a slap in the face: a statement that a diva is back and -- dust off that "I'm Every Woman" cassingle -- could just be re-inventing herself as a clubland queen.

Keys, who was seated in the VIP section near the front of the stage, helped shove the moment over the top, getting on her feet to lead a spontaneous chair-dancing session. Don't question Keys' claim as a multi-talent; she also managed to get her mini-party on video. (We expect to see some footage of the singer grooving with fellow guest Martha Stewart on her site any minute).

As for the "Voice," it still lets loose on the ballads. Actress Vivica A. Fox told us after the presentation that the title track was her favourite of the bunch, saying that after listening to the song: "I really feel she's reenergized herself as a woman first ... but more importantly as a recording artist."

As far as material that showcases Houston's vocal chops goes, it's a cover of Leon Russell's "A Song For You" that got our synapses firing. As Davis revealed, the rough cut played Tuesday was finished just the day prior, but it's the one where Houston's talent as an interpreter really raises hairs and tingles spines. The fact that it breaks into a '90s-style house beat mid-way through only adds to the drama.

Houston and Davis are expected to host a similar event in L.A. later this month.

I Look To You Tracklist:

1. Million Dollar Bill
2. Nothin' But Love
3. Call You Tonight
4. I Look To You
5. Like I Never Left (feat. Akon)
6. A Song For You
7. I Didn't Know My Own Strength
8. Worth It
9. For The Lovers
10. I Got You
11. Salute


NEWSFILE: 22 JULY 2009