Diane Warren Has The Come Back Single?...
Vibe: Whitney Houston New Single Confirmed
Songwriter Diane Warren says "Whitney's Back!"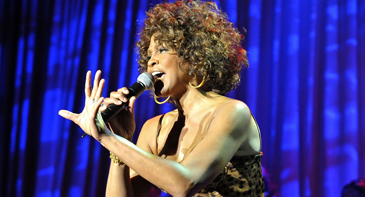 Rumors of Whitney Houston's return have been swirling for years. Now, Diane Warren, the songwriter behind Houston's comeback single, has the goods. "The song is called 'I Didn't Know My Own Strength'," Warren told an audience at the Experience Music Project's annual Pop Conference in Seattle on Friday. "Whitney's back. Big time."

Warren said she wrote the song specifically for Houston. "I tried to get inside her head," Warren said about the track, which Houston performed at Clive Davis' Pre-Grammy Gala on February 7. "Strength" will be featured on the 45-year-old singer's seventh solo album, and will be produced by famed hitmaker David Foster. The still-untitled project has been speculated as a 2009 release, but that date is not confirmed.
During her on stage talk with the Los Angeles Times' Ann Powers, Warren also spoke at length about her long and incredibly successful career, including her No. 1 singles for artists ranging from Aerosmith ("I Don't Want To Miss a Thing"), Celine Dion ("Because You Loved Me"") and Toni Braxton ("Unbreak My Heart").



NEWSFILE: 20 APRIL 2009