The Sun: Whitney At Her Whit's End...
UK Tabloid newspaper The Sun has published a story alleging extensive drug abuse by Whitney Houston as told by Whitney's sister-in-law, Tina Brown. The news report is accompanied by a photograph alleging to be of Whitney's bathroom that is littered with drug paraphernalia.
The Sun - Whitney At Her Whit's End.
New York Daily News - Houston, you got a problem...crack!

National Enquirer Pictures...
The National Enquirer has published photographs reported to be of Whitney Houston's bathroom evidencing her continued abuse of drugs according to her sister in law, Tina Brown.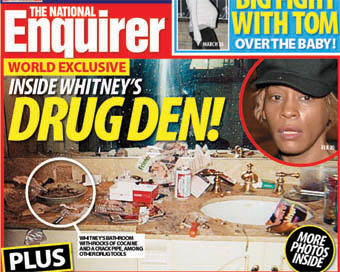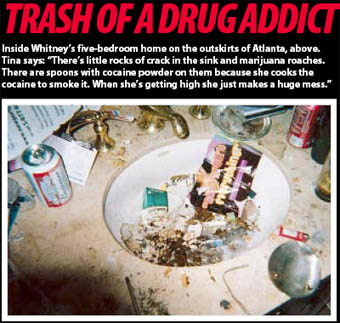 Unheard Whitney Remixes To Surface From RCA Vault...
[365 Report]
Dance, Dance, Dance

Review by Duave Wells
Dance music fans have a new reason to cheer thanks to the recent launch of the new RCA Dance Music Vault on iTunes.
For the first time, many of those elusive DJ mixes and out-of-print classics that dance fanatics have lusted after for a lifetime are finally available on iTunes in what can only be described as a groundbreaking move by the always cutting edge RCA Music Group.
"It's a very good day today!" Said RCA Music Group Vice President of A&R Hosh Gureli speaking from his office in New York last week on the day the iTunes catalog went online. "It's like a mental day for the dance world I think…and also for the gay community as well."
And truth be told Gureli is not even exaggerating. Not only can you now download previously unreleased mixes of contemporary hits like Kelly Clarkson's "Because of You" and Heather Headley's "In My Mind", you can also download classic alternative 80's tracks like Icicle Works' "Whisper To A Scream" and legendary 70's disco tracks like Odyssey's "Native New Yorker". It's really a bit like being a kid in a dance music dream store, especially when you consider the fact that RCA is seemingly holding back nothing…even releasing new mixes of current songs like yet another Clarkson hit "Walk Away" that are as little as three weeks old!
"The days when a DJ got a 12-inch and held onto it forever and it wasn't widely available are over," said Gureli describing the new day in dance music this new venture heralds.
And best of all, this is just the beginning. Each month RCA plans to roll out new additions to the vault, ultimately creating what could well become the face of dance music on the web. Next month, look for the floodgates to open on mixes of 80's dance chart toppers like Jermaine Stewart's signature hits "The Word Is Out" and "We Don't Have To Take Our Clothes Off"…everything Expose …a whole lot of Taylor Dayne …maybe some Lisa Stanfield…the late Phyllis Hyman's "Riding The Tiger" and even The Blow Monkeys' "Digging Your Scenes." Then just in time for gay pride in May and June get ready for what can only be described as a summer of divas.
"What I think is really going to resonate in the gay community is when we concentrate on months May and June," says Gureli. "I have enough material between Deborah Cox and Whitney Houston to fill pages and pages in the vault and we're just going to let it out. From exclusive Junior Vasquez remixes to stuff that I could never fit onto a 12-inch because you can only fit so many mixes on a 12-inch. There's so much extra stuff and I can put it all up there for the world to get…and not just DJ's but actual fans."
Can you even handle it? Hey if we can't get a new Whitney album we can at least get to hear 'The Voice' as we've never heard her before on iTunes this summer.
When I asked Hosh what inspired this new project which is stirring up all kinds of excitement across the dance community, his response was simple and personal. "I was on iTunes over a year ago and I looked up 'Native New Yorker' being a native myself and I didn't see it up there," he says seemingly stunned by the revelation. "I thought, 'My god this is one of the all-time classic records and it's not on iTunes. Then I started looking for other titles like 'Disco Nights' and 'There For The Grace of God' and certainly the longer club friendly versions were not up there. So I said, it's going to be my mission, now that we are the RCA Music Group…to put a destination for dance music up on iTunes at least from a group perspective."
From that kernel of an idea, RCA Music Group's Dance Vault has come to fruition in what we can all only hope will be ground zero in a revitalization of dance music across the board. No matter what happens, one thing's for sure.. iPods across the globe are going to be gettin' awfully groovy in the very near future. Yeah baby!

NEWSFILE: 29 MARCH 2006