USA Today Photo First: Whitney & Mariah...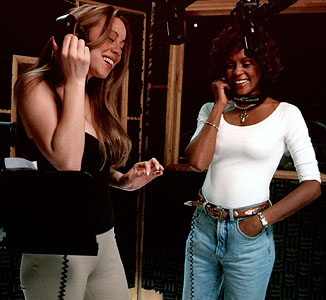 USA Today have the world's first photo of Whitney Houston and Mariah Carey together during the recording session for "When You Believe" from "The Prince Of Egypt" - Here's the article which appears with the photo...
Pop Divas Unite For A Power Duet
When dreaming up the soundtrack for The Prince Of Egypt, DreamWorks execs made a wish list of artists to sing the big song, When You Believe. Mariah Carey and Whitney Houston each got a special screening of the film-in-progress and agreed to be involved, says Michael Austin of DreamWorks Records. "Getting permission was complicated," he says, because the divas record for other labels. But the mission was accomplished, the recording session took place Aug. 7 in New York, and the soundtrack's due in November.
Who'll get star billing? Austin says half the albums will have Houston's name ahead of Carey's; half will bill Carey first.
NEWSFILE: 20 AUGUST 1998
© 1996 - 2001 Manish
www.classicwhitney.com - Disclaimer.