Natalie Cole: Angel On My Shoulder...
Natalie Cole, happy at last
By Ann Oldenburg, USA TODAY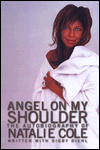 Natalie Cole was asked to write her life story 10 years ago. "I'm glad I waited," she says. "I was not in the place I am today."
Cole has spoken before of hitting rock bottom — being hooked on heroin, completely broke and divorced from a man she loved.
But in her new autobiography, Angel on My Shoulder (Warner Books, $25.59), written with Digby Diehl, Cole also reveals:
Her molestation as a child by a male family member.
How her father, Nat King Cole, never sang her romantic ballads like Mona Lisa, but instead sang gibberish to make her giggle.
Her estrangement from her mother, Maria, 78.
Her stint working for a pimp as a "come-on" girl in 1973.
That she took young son Robbie with her to pick up drugs.
That she completed rehab at Minnesota's Hazelden clinic in 1984.
That she was abused by her husband, Andre Fischer, whom Whitney Houston called "Tick Tick Boom" for his explosive temper.
A moving last chapter on finally finding herself this year as she turned 50.
She says The Oprah Winfrey Show has passed on having her as a guest. Too bad. Angel would certainly fit the show's inspirational tone.
"It's not a feel-good book, all happy-happy," Cole says, "but I was able to look back on it with a joy and pride that, first of all, I got through it. We need to be able to find sources of encouragement and be sources of encouragement."
She will be a multimedia source of encouragement. A CD called The Best of Natalie Cole, due out Nov. 7, will celebrate her 25 years in the music business. And she plays herself in a TV movie airing Dec. 10 at 8 p.m. ET/PT on NBC.
Taken from her book, the movie was to be titled Angel on My Shoulder, but the network thought it was too much like rival CBS' Touched by an Angel, so it's just The Natalie Cole Story .
Cole thinks people may tune in out of curiosity because she's a celebrity, but she hopes viewers will see it as a story of "what can happen to a life."
She sees that happening now with good friend Houston, whose alleged drug abuse has been tabloid fodder. Cole says she hasn't spoken to Houston since April.
"I can't tell you how hard it is to see it. I'm on the other side of what people are going through — my drug problem was all in the media. Now I'm on the other side. It's not a fun thing. But she's going to pull through.
"Whitney's got a purpose. She has such a gift. She's a survivor."
As is Cole.
The singer describes her life now as "great," but "I still have serious anxiety attacks." She recently settled a lawsuit against her mother in which she and her siblings were seeking trust money owed them from their father's estate. Her son is 22 and at the Berklee College of Music. They are close. Her marriage to Fischer ended in divorce in 1995.
"I'm not in any serious, intimate relationship right now. I'm so intolerant of anything that doesn't enhance my life. It takes a long time to get to that place."
NEWSFILE: 27 OCTOBER 2000